Details

Category: Europe
Published on Thursday, 18 July 2013 12:00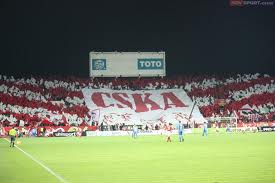 By Alexander Krassimirov
July 18 - Bulgaria's most successful football club CSKA Sofia looks set to open a new chapter in its illustious history and become a public company. The club has had a turbulent few months which has seen it flirt with bankruptcy and Bulgarian football legend Hristo Stoichkov, who was brought into the club but then quickly left.
The decision to go make a public offering of the club's share was announce by Alexander Tomov of the Red Champions group who acquired the shares of the club from the old owners Titan AS. UK businessman Laurence Davis, will drive the process towards public listing of the company,
The majority shareholder of the club is the Lyra Investment company. It will retire from the management of the club once it becomes a public company - a process expected to take a number few months.
Laurence Davis who will be on the board alongside Dimitar Yakimov and Peter Zhekov, both legends of Bulgarian football and PFC CSKA Sofia. Team manager will be Stoycho Mladenov, known in Bulgaria as the "executor of Liverpool" because of his goals against the European champions in 1982.
"A key element of our strategy is PFC CSKA Sofia to become a public limited company. The fans of the club, the masses of businessmen will be offered shares. Everybody who acquire shares will be able to trade them on the exchange," said Tomov.
"The objective is: public and transparent control to bring the debt back and make sure that the development of the club will go in right direction. At the head of the company will be a citizen of the United Kingdom. His name is Laurence Davis. Initially, he will be the leader of the company and president. 53 businessmen have given assurances that they will purchase the shares. CSKA will be the first public company in Bulgarian football."
CSKA Sofia was facing bankruptcy after the former owners of Titan AS announced they had no funds to continue its participation in the local championship. Turmoil in the club led to voluntary withdrawal from participation in Europa League.
After lengthy negotiations, Red Champions was able to buy the shares of the club, having made a commitment to meet the club's obligations to Bulgarian institutions, football managers, former coaches and players - a total about 10 million leva (€5 million).
Contact the writer of this story at This email address is being protected from spambots. You need JavaScript enabled to view it.