Details

Category: Europe
Published on Wednesday, 31 July 2013 12:22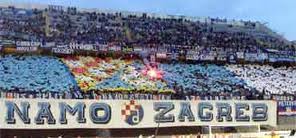 By Mark Baber
July 31 - Dinamo Zagreb have been fined €25,000 and ordered to close the east section of their stadium for their European home game against FC Sheriff for their fans' racist chanting during a recent qualifier against Luxembourg's CS Fola Esch.
The Croatian champions were charged by UEFA's Control and Disciplinary Body under the new Article 14 of the Disciplinary Regulations after the racist chanting during Dinamo's 1-0 hime win against CS Fola Esch on July 23 in the UEFA Champions League second qualifying round.
According to a UEFA statement: "The fight against racism is a high priority for UEFA. UEFA has a policy of zero tolerance towards racism and discrimination on the pitch and in the stands. All forms of racist behaviour are considered as serious offences against the disciplinary regulations and are punished with the most severe sanctions."
UEFA's Article 14, as drafted, appears to puts racist and discriminatory speech on a par with the legitimate exercise of free speech by applying the same sanctions to "all forms of ideological, political and religious propaganda" as are imposed on anyone who "insults the human dignity of a person or group of persons by whatever means, including on the grounds of skin colour, race, religion or ethnic origin."
Whilst a first offence is punished with a minimum of a partial stadium closure, a second offence is punished with a match played behind closed doors and a fine of €50,000. Subsequent offences can be punished with more than one match behind closed doors, a stadium closure, the forfeiting of a match, the deduction of points or disqualification from the competition.
With fans in a number of European countries, including Italy, continuing to abuse of black players, it is also worth noting that under the new regulations, if a match is suspended by the referee because of racist and/or discriminatory conduct, that match may be declared forfeit.
Contact the writer of this story at This email address is being protected from spambots. You need JavaScript enabled to view it.