Details

Category: Europe
Published on Monday, 05 August 2013 10:41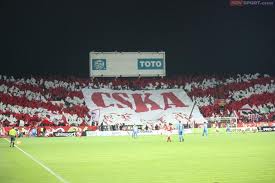 By Alexander Krassimirov
August 4 - The new governing and executive body of Bulgarian clubs CSKA Sofia has kept its promise and revealed the monthly salaries of the team's players and coaching staff. CSKA is the first club in Bulgaria to disclose the salaries of its employees to the public.
The new board led by Alexander Tomov, promised full transparency in the club in the first day of its management. According to the report, which was published on the official website, the club's monthly budget for salaries of coaches and players is €118,000
The information suggests that the highest salary is for the head coach Stoycho Mladenov, who will receive €10000 per month. His assistant Anatoliy Nankov gets four times less - €2500 per month. The sum is the same for Italian Rocco Perrotta, while the son of Mladenov - Stoycho Mladenov, Jr. will earn €2000.
The highest paid players are captain Valentin Iliev, Emil Gargorov and Apostol Popov who all returned to the club this summer. They receive a monthly salary of €7500. The goalkeeper Tomas Cherny and Brazilian Marcinho who stayed at the club, despite significant disruption and the threat of bankruptcy two months ago, will also €7500.
Other foreign players at the club will earn between €5000 and €6000. One of the young talents of Bulgarian football and CSKA, Anton Karachanakov, will receive €3750. Many of the junior players who have just signed professional contracts will only receive €490 per month - the lowest salary among the players.
"CSKA Sofia kept his promise to you and publish the salaries of coaches and players. We do this because we want our club to have full transparency. To regain the trust of all those who might wish to acquire property through purchase of shares. At the same time we have had reduced by over 50% the monthly expenses for the administrative staff of the club," said a club statement.
The club is expected to go public and list on a stock market soon, though no detail on the listing has been made public yet. Many raised from the share issue would be ploughed back into the club. Many of the clubs' former players, prominent fans, and even current players said they would buy shares to help the club through what has been a difficult financial period.
Contact the writer of this story at This email address is being protected from spambots. You need JavaScript enabled to view it.