Details

Category: Europe
Published on Tuesday, 13 August 2013 00:16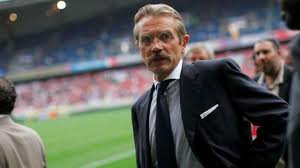 By Matt Scott
August 13 - European clubs have warned FIFA not to push for a winter World Cup in 2022 without due process. Frédéric Thiriez (pictured), the president of the European Professional Football Leagues [EPFL] and president of France's Ligue de Football Professionnel (LFP), has written to FIFA's president, Sepp Blatter, urging "exhaustive analysis" and "general consultation" before moving to hold the tournament in the Qatari winter.

The letter, seen by Insideworldfootball, was written in response to Blatter's public comments on the matter last month.


Blatter made clear his intention to push FIFA's executive committee for a shift in world-football schedules that would accommodate the competition outside of its traditional place in the European close season [http://www.insideworldfootball.com/fifa/12907-blatter-adds-voice-to-lobby-for-switching-qatar-2022-to-winter].
He will take the decision to the next meeting of the FIFA executive committee, on October 3-4. But the leagues most affected by Blatter's proposal are resisting the moves.
"It is certainly not for us to make pronouncements on the country where the World Cup must take place," wrote Thiriez, in French, in his letter dated August 8.
"That is a matter for the executive committee and I have always had confidence in FIFA and its president to make the choices that are necessary in the interests of football.
"Conversely, I will not prevent myself from drawing your attention to the fact that the time when the World Cup takes place is fixed by the international calendar... [A]n eventual change in the date depends on a decision-making process that is entirely different to that which chooses a host country.
"Taking into account the fundamental impact of the calendar on those who play football across the world, a change can only be decided after exhaustive analysis and above all a general consultation."
Copied in to the correspondence was Michel Platini, the president of UEFA.
Under Article 81 of the FIFA statutes, changes to the International Match Calendar are in the gift of the executive committee. However, the statutes also stipulate that decisions must be taken "after conferring with the Confederations". The purpose of placing Platini, himself a FIFA vice-president, in the loop is therefore clear.
Although there is at no point in the letter any reference to litigation, the unspoken threat is threaded throughout. The EPFL's demand for a full consultation process carries the force of 486 European clubs through the 21 member leagues, with a further 289 among its eight associate members.
Thiriez's letter added: "With this in mind, taking into account the considerable consequences for the national championships that keep football alive in Europe and throughout the world, an eventual decision to displace the World Cup to the winter could only be taken after a focused consultation, indeed even [obtaining] the consent of the competition organisers that we are."
Contact the writer of this story at This email address is being protected from spambots. You need JavaScript enabled to view it.