Details

Category: Europe
Published on Friday, 16 August 2013 09:53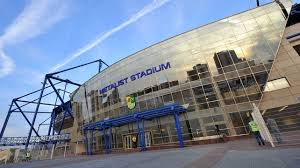 By Andrew Warshaw
August 16 - As expected, Metalist Kharkiv are appealing to the Court of Arbitration for Sport (CAS) against being thrown out of their first ever Champions League campaign by UEFA over a domestic match-fixing case dating back to 2008.
Metalist were Ukrainian runners-up last season as they broke the Shakhtar Donetsk-Dynamo Kiev domestic stranglehold and are due to face German club Schalke 04 in the Champions League play-off round next week.
Instead, UEFA's Appeals Body decided to disqualify them after they lost a CAS appeal against the same match-fixing sanction, originally imposed by their national federation, earlier this month. But now the Ukrainians are buying time by appealing against the UEFA decision too.
As things stand now, Metalist will be replaced against Schalke on Wednesday by Greek club PAOK Salonika, whom the Ukrainians beat in the third qualifying round. PAOK will be replaced in the Europa League by their scheduled playoff opponents, Maccabi Tel-Aviv, who will qualify directly for the group stage of that competition.
UEFA's rules now allow them to punish clubs retrospectively for match-fixing but Metalist first vice-president Kostyantyn Pyvovarov is fighting the ban on the basis that his club should not be punished for the actions of a former regime - even though that argument did not appear to convince the CAS first time round.
"I want to remind you that the contract match, which allegedly took place, was held back in 2008, with the old owners of the club. Metalist has won the right to participate in the Champions League 2013-14 in a fair fight," he said.
"Our team and our fans deserve to take part in the main football competition in Europe. I want to assure fans that we will fight for the rights of the club and protect them in accordance with all legal requirements."
Metalist's latest move, whilst widely anticipated, gives UEFA another untimely headache with the group stage draw scheduled for August 29 - one day after the playoff second legs.
European football's governing body are already facing a separate CAS appeal submitted by Fenerbahce after it too was thrown out of this season's Champions League over match-fixing allegations. The Turkish club has been barred from the next two competitions for which they would qualify, including this season, but remain in the competition following an emergency CAS hearing while awaiting a full outcome.
The Swiss-based body says that will take place "by August 28" - 24 hours after Fenerbahce's second play-off leg against Arsenal.
No decision has yet been taken by UEFA about what would happen if Fenerbahce knock Arsenal out but then lose their appeal.
An even more confusing and awkward scenario for UEFA would be if Metalist win their case at the CAS, only for the Schalke-PAOK tie to have already taken place.
Contact the writer of this story at This email address is being protected from spambots. You need JavaScript enabled to view it.