Details

Category: Europe
Published on Monday, 26 August 2013 22:47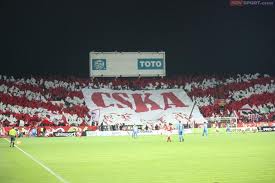 By Alexander Krassimirov
August 27 - Bulgaria's CSKA Sofia will lose its main sponsor GLOBUL. The telecommunication company, which is the second largest in Bulgaria announced that it would not continue its cooperation with the club when the current sponsorship contract expires at the end of August.
GLOBUL has been the main sponsor of CSKA Sofia for four years.
The management of CSKA is now becoming increasingly confusing as it is not clear who the real owner of the club is, and with the sponsorship ending, how the club will be funded in the near future. Earlier this year, the former owners of Titan AS give the ownership of a group of businessmen led by Alexander Tomov.
The official press release from GLOBUL said: "GLOBUL will not renew the agreement for a partnership with CSKA Sofia. The sponsorship contract will end at the beginning of September.
"GLOBUL thank the management, players and supporters of CSKA Sofia for successful cooperation and wishes the most titled Bulgarian football club more successful, both in Bulgaria and in the European club competitions.
"GLOBUL has been a sponsor of CSKA since September 2009."
GLOBUL is a partner of current English Premier League champions Manchester United.
Just a few hours later, the Board of CSKA confirmed the news and revealed that the club is in advanced talks with an English and two Bulgarian companies for possible sponsorship.
The club also said that the new owners had made urgent payments to FIFA and UEFA. According to the report, which was published in the official website of CSKA, the club was on the verge of being suspended and receiving a points deduction in the Bulgarian league.
At the same time players received their first bonuses in ten months. The players were rewarded for their only victory in A grupa against PFC Neftochimic.
Contact the writer of this story at This email address is being protected from spambots. You need JavaScript enabled to view it.