Details

Category: Europe
Published on Thursday, 29 August 2013 09:32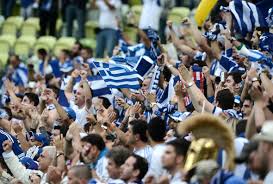 By Panos Bletsos
August 29 - The Greek football authorities have again reformatted the leagues in a desperate bid to create more revenue. This time the format of the Football League, the country's second tier, has been changed with immediate effect as the league seeks to generate more TV money.
For the first time, the teams winning each of the division's two groups will be pitched into a 14-match long, play-off system with three top-flight berths up for the six teams competing. Previously the divisional winners and runners-up were promoted automatically.
The initial decision to revamp the Football League was taken during the course of last season, when the Greek Football Federation (EPO) and the majority of professional clubs agreed to switch the league's third tier from semi-professional to amateur status - a result of the country's severe financial crisis.
This was the primary reason why AEK, one of Greek football's powerhouses, opted to start from scratch in the third division following relegation from the Super League - which was also expanded from 16 to 18 clubs for the first time since the 1999-2000 campaign. That also meant that the second division was expanded to 28 teams in two groups, as opposed to the bizarre 21-club championship of last season.
Greece's second division has gone through numerous format changes. It was played with regional groups from its inauguration in 1962 up until 1983. However this will be the first time the season's top two teams will be included in the play-offs, which were introduced in 2009.
Until now, both the champions and the runners-up were rewarded with immediate promotion. Tuesday's decision means that teams finishing from 1 to 4 in their respective regional 26-game championship will take part in an additional round-robin of another 14 matches to eventually decide all three clubs progressing to the Super League. The only motivation for finishing top will be a three-point head start at the beginning of the play-offs.
Sparking even more controversy, the board decided by vote to include Olympiakos Volou in the southern group and their city rivals Niki in the Northern group, along with Zakynthos.
The draw will be made next week and the regular season will kick off September 29, with the bottom three teams of each group relegated.
Pay television platform OTE TV holds the league's broadcasting rights for the third season running, with the new deal expected to be worth €2.8 million per year.
Contact the writer of this story at This email address is being protected from spambots. You need JavaScript enabled to view it. . Follow him on Twitter @PanosBletsos.