Details

Category: Europe
Published on Friday, 30 August 2013 12:33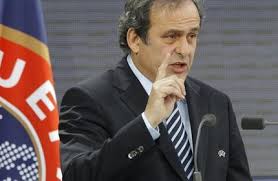 By Andrew Warshaw, chief correspondent, in Monaco
August 30 - With the threat of sanctions hanging over them, European clubs have drastically reduced their losses in order to abide by UEFA's strict financial fair play regulations which include the ultimate punishment of throwing teams out of the Champions League and Europa League.
Figures provided by European football's governing body show that overall losses among the 237 clubs participating in UEFA competitions fell from €1.7 billion in 2011 to €1.1 billion last year - a 36% reduction.
By the same token, the amount of money clubs owe to other clubs - known as overdue payables - has also fallen considerably while for the first time since FFP was conceived, revenues have increased at a faster pace than wages.
"Clubs are clearly getting the message because something is happening," UEFA general secretary Gianni Infantino told reporters here. "Wage growth has been eclipsed by revenues for the first time. This is concrete proof financial fair play is working."
UEFA president Michel Platini, who came up with idea of FFP to make clubs break even, could not contain his pride. "Financial fair play is not just a whim of the president," said Platini. "It is also the wish of the European football family and political bodies to come up with a regulation to counter this scourge."
But while the figures were clearly good news for UEFA, Platini acknowledged there are still some worrying legal challenges ahead especially when FFP penalties start kicking in from the end of this season.
Platini knows full well that UEFA's club competitions could face the prospect of even more clubs appealing to the Court of Arbitration for Sport, throwing the Champions League and Europa League draws into confusion - just as Fenerbahce, Besiktas and Metalist Kharkiv did this season, in their cases over match-fixing .
All ultimately failed to win their appeals amidst a mountain of paperwork and Platini admitted: "It was a very difficult summer for our legal department. Clubs were playing, not playing, then playing again."
Platini said UEFA were already working on a way to combat unwanted appeals, to be discussed at its next executive committee meeting in Dubrovnik in mid-September: reorganising their disciplinary measures so that any punishments are delayed for a year.
"Whenever a club is not happy it can appeal," said Platini. (So) would it not be better to suspend a team starting the following year ... rather than for a competition that is already under way? It's bothersome when the draw is disrupted and bad for UEFA's image."
Contact the writer of this story at This email address is being protected from spambots. You need JavaScript enabled to view it.