Details

Category: Europe
Published on Tuesday, 03 September 2013 11:47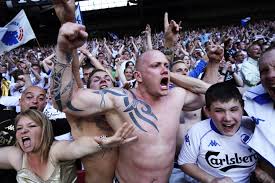 By Mark Baber
September 3 - There have been calls for UEFA to intervene as the ticket office of FCK København has been cancelling ticket purchases for its forthcoming Champions League games against Juventus, Real Madrid and Galatasaray made by people with 'foreign-sounding' names. The clubs it is acting on "security grounds".
Among those who had they purchases annulled was Atila Momeni who told football website goal.com: "After buying tickets for all three group games, with money taken out of my bank account, I received an email telling me that for security reasons my purchase had been cancelled.
"I then discovered that many others - none of Danish descent - had experienced the same. A wish for greater security is understandable, but it is unacceptable and discriminatory that the only fans to receive this treatment were those with foreign names. We feel incredibly discriminated.
"We often suffer racism in Denmark but I would never have thought that we would be treated this way when it came to football. This cannot be excused. UEFA must do something about this."
Masoud Barid, who is of Afghan descent, told Ekstra Bladet newspaper: "This is the most degrading thing I've experienced. I'm a huge FCK fan and have no relation to any of the three clubs FCK is going to play."
Bajram Fetai, the Macedonian national team player who lives in Copenhagen for much of the year, was also refused tickets which he said were for a family member with Downs Syndrome. He tweeted to the official UEFA channel: @UEFA.com Dear Uefa. What do you think about a club not allowing a person with a none Danish name to buy a ticket for a CL game?
Club secretary Daniel Rommedal told Ekstra Bladet: "We cancelled the tickets, when we were not sure about the affiliation of the purchase, following the episode with Hannover in the Europa League last year."
Rommedal claimed: "We are fully aware that everyone will not agree, but discrimination it is not."
FCK København have reportedly announced that tickets are still reserved for the original buyer and fans who had their tickets cancelled and they can claim them at the ticket office if they explain that they are not fans of the away team.
European law is clear in terms of not allowing discrimination on the basis of name, sex, age or nationality.
Contact the writer of this story at This email address is being protected from spambots. You need JavaScript enabled to view it.