Details

Category: Europe
Published on Tuesday, 03 September 2013 12:33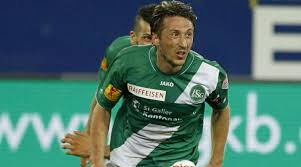 By Andrew Warshaw
September 3 - Kosovan football authorities have written to FIFA president Sepp Blatter condemning Russia's refusal to grant a visa to a Swiss-based Kosovan player for a recent Europa League fixture.
The thorny issue of Kosovan eligibility returned to the spotlight last week when St Gallen midfielder Kristian Nushi (pictured), who moved to Switzerland 11 years ago but still holds a Kosovan passport, was refused entry to play against Spartak Moscow.
Even without him, the Swiss side won 4-2 to knock Spartak out but in official correspondence to Blatter on Kosovan Football Federation (KFF) letter-headed paper, KFF president Fadil Vokrri said the whole Kosovan community "remained shocked by the absence of reaction" to Russia's entry ban on Nushi.
"Nothing was said or done publicly to help a professional footballer to play for his club, and to make sure that the independence of sport over politics would be enforced," said the letter, a copy of which has been seen by Insideworldfootball.
Kosovo declared independence from Serbia in 2008 and has been recognised by at least 100 countries including 23 of the European Union's 28 members, but not by Russia. It has yet to become a member of the United Nations and is not a member of FIFA or UEFA either.
FIFA agreed in principle in May 2012 to allow its member associations to play friendlies against teams from Kosovo but then backtracked following a protest from the Serbian FA.
Instead, permission was watered down to allow Kosovo to play friendly matches at "youth, amateur, women's and club football".
Even that, however, was jeopardised by FIFA's insistence that all flags and national symbols - as well as the national anthem - be banned and that no games can be staged on Kosovar soil "without the prior authorisation" of Serbia.
Vokrri said FIFA's silence over the latest case - which calls into question Russia's pledge to waive visa restrictions for the 2018 World Cup - contrasted sharply with that of other international federations including table-tennis, judo and handball who, he wrote, had all intervened over similar incidents in support of Kosovan athletes.
"We all know your support and FIFA's support to ensure the right to Kosovo football to play in spite of political obstruction," Vokrri's letter said.
"It is clear however that your mediation is more necessary than ever to find solutions since the injustice imposed on Kristian Nushi constitutes a dangerous precedent and demonstrates the unfair treatment of Kosovo football as well as the need to re-affirm the supremacy of sport over political criteria."
Contact the writer of this story at This email address is being protected from spambots. You need JavaScript enabled to view it.