Details

Category: Europe
Published on Tuesday, 03 September 2013 12:58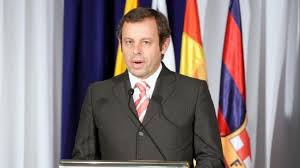 By Paul Nicholson
September 3 - Barcelona president Sandro Rosell has reacted swiftly to accusations from Brazil that he has benefitted illegally from friendly matches involving the Brazilian national team. He has also confirmed that he "consulted" his friend Ricardo Teixeira on his move to Andorra, where Rosell has an agency.
Speaking on Catalunya Radio last night he said: "I have nothing to hide. I'd like to know who is accusing me and of what I am being accused, because I've not received anything from any court."
According to Brazilian newspaper Estadao, a percentage of the fees (believed to be 30%) paid to the Brazilian federation (CBF) for participation of the national team in international friendless ended up in an Andorra account in Rosell's name.
In Brazil the public prosecutor had been chasing €3.5m that Alianto Marketing Ltd, owned by Rosell, was allegedly paid for promoting a game between Brazil and Portugal. The prosecutors claimed there had been no formal bidding for the rights and that a false document had been used to secure the deal.
"In Brazil there was an administrative error from a company that submitted a tender. The government said it couldn't be presented. It was, the job got done and that was that," said Rosell.
'Earlier in the interview Rosell had said: "I've worked openly in public, which is what I've done all my life. Anybody who wants to can denounce me.
"Let them take me to court and sue me for the things they say I've done. After that we'll talk about things in front of a judge.
"I can get into Brazil when I want because there is no open procedure against me anywhere in the world."
On Teixeira, who has moved his residency from Brazil to the US and now to Andorra, which has no extradition treaty with ether Brazil or the US, he said: "He was looking for a passive residence in France, England, the United States...I've had an agency in Andorra for 25 years and he consulted me in that respect.
"What's the problem? He has stayed in the United States."
As reported yesterday in Insideworldfootball, Teixeira has long been suspected of financial wrongdoing, and resigned his position as head of the CBF and on FIFA's executive committee in March of last year, citing ill health.
In 2001, the Brazilian Congress investigated Teixeira on suspicion of 13 crimes, including tax evasion, money laundering and misleading lawmakers, but no charges were brought. He was also implicated in the ISL scandals and in 2010, the Swiss Justice found that Teixeira had received millions of euros that were deposited into accounts in Andorra.
The accusations Rosell has rebutted cover a period when Teixeira was in charge of the CBF, and before he became president of Barcelona FC in 2010.
Contact the writer of this story at This email address is being protected from spambots. You need JavaScript enabled to view it.