Details

Category: Europe
Published on Wednesday, 04 September 2013 12:48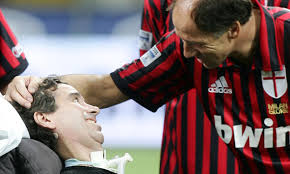 September 4 - A Mass will be held to remember Stefano Borgonovo tomorrow, September 5 at 18:30 in the Basilica of Santa Maria Novella in Florence.
The mass will be attended by representative of ACF Fiorentina as well as the Florentine civic and religious institutions.
Cristiano Biancalani, the administrator of the Mercy of Campi Bisenzio, has confirmed that Mercy will take part in an official capacity in the celebration of Borgonovo's life.
Borgonovo died June 27 in Florence, Italy, aged 49. He had fought a tough fight against ALS (Amyotrophic Lateral Sclerosis), a rare disease which kills nerve cells in the spinal cord and brain in the latter years of his life. His life will be remembered for his humility and grace in his battle against ALS, as well as for his style and potency on the football pitch.
Borgonovo enjoyed his greatest playing successes with Fiorentina between 1988 and 1992. Together with Roberto Baggio he formed the famous 'B2' strike partnership which became a household name in the late 1980s and struck fear into the heart of defences in Italy's Serie A in what was a golden age for Italian football as it sat at the top of world football.
After losing control of his muscles in 2006, Borgonovo went public with his illness in 2008 and at the same time founded the Stefano Borgonovo Foundation, which raises money for ALS research. He became the face of and a figure of hope in the fight against ALS with his courage but also his actions, despite his debilitating condition.
Contact the writer of this story This email address is being protected from spambots. You need JavaScript enabled to view it.