Details

Category: Europe
Published on Thursday, 05 September 2013 10:05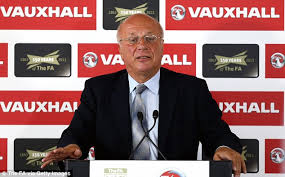 By Andrew Warshaw
September 5 - The new head of English football has targeted winning the 2022 World Cup as a genuine goal but has painted a bleak picture of the current state of the national team which is still without a major trophy for almost half a century.
Football Association chairman Greg Dyke warned that decades of under-achievement cannot be improved unless there is a solution to the dearth of home-grown players and the proliferation of foreign imports.
In a wide-ranging and hard-hitting speech to an invited audience, Dyke spoke the language of much of the football public when he described the English game, which has failed repeatedly in major competitions despite enormous expectations, as "a tanker that needs turning."
England, which won the World Cup on home soil in 1966, have not gone beyond the quarter-final since they reached the last four in 1990. Their best performances in the European Championship came when they reached the semi-finals in 1968 and 1996, the latter again on home soil.
Laying out his vision for the future, Dyke said he was not in the "blame game" but bemoaned the "frightening trend" of fewer and fewer eligible English players. He admitted that winning trophies was unlikely until this can be reversed.
"We have to improve how we identify talent, how we nurture it within our teams and we need to be clearer setting our targets so that players and everyone connected to English football knows what we are trying to achieve," he said.
"If the best of our emerging young players can't get a game here, then we have a serious problem. The two targets I have for the England team are - one, to at least reach the semi-finals of Euro 2020 and two, win the World Cup in 2022."
"No doubt some will say these targets will burden the players with more pressure. I don't see it in that way. Top players must be able to handle pressure if they want to be winners. We want to be winners."
Of the 137 Premier League signings in the just completed summer transfer window, only 25% were English. Dyke, who took over from David Bernstein in July, is setting up a special commission to investigate the decline of English players in what is generally touted as the best league in the world.
Whilst Premier League clubs had "made a huge investment in academies... so far the game had not seen a huge return on that investment", he said.
"The issue, quite simply, is this. In the future it's quite possible we won't have enough players qualified to play for England who are playing regularly at the highest level in this country or elsewhere in the world. As a result, it could well mean England's teams are unable to compete seriously on the world stage."
Dyke focussed on the fact that when the Premier League was set up in 1992,it was hoped overseas players would improve the standard of their English counterparts.
Instead, he said, the opposite has happened. "What none us could have foreseen was because of the very success of the Premier League we would end up with a league largely owned by foreign owners, managed by foreign managers and played by foreign players."
"And that, as a result, the England set-up has been weakened rather than strengthened by the creation of the Premier League.
"Last weekend only 65 English players started in the Premier League with another 14 coming on as substitutes. Taking into account that some of these players are not international standard I think it's fair to say we already have a very small talent pool and it's getting smaller.
"One World Cup win on home soil and a few semi-finals does not compare with the records of Brazil, Argentina, Germany, Italy and, more recently, Spain and France. However, just because we have not been as successful as we think we should have been in the past doesn't mean we should accept the same going forward.
"English football is a tanker that needs turning. I think the situation is serious, very serious. So the question I am asking today is a simple one. Do we let this trend continue or do we actually try to do something about it?
"It is crucial that English football finds a solution without undermining the undoubted success of the Premier League. We don't want to kill the golden goose in the search of the golden egg but we do have to do something if the English team is to prosper in the future."
"If not it's hard to see England even challenging for the World Cup or the Euro Championships in the years ahead let alone meeting the targets I've set."
The chairmen of the Premier League, Football League, Professional Footballers' Association and League Managers' Association have all been invited on to the new commission which will meet for the first time this month to try to come up with solutions.
But in a follow-up BBC radio broadcast today, Dyke questioned the wisdom of a quota system being introduced as one of those solutions. "The pool of English players who can play for the England team is decreasing year by year," he said. "In my speech I said we'd look at a quota system but there all kinds of legal problems since most of the players are European.
"Another issue is that foreign players are cheaper. If that's the case and you put in a quota, English players are going to be even more expensive."
Dyke shrugged off suggestions that he was being too unambitious by looking so far ahead for success. "I have set a target of 2022 because it's a 10-year process. That doesn't mean we couldn't do well in Brazil as long as we qualify. But I don't think anyone realistically thinks we are going to win the World Cup next year."
Contact the writer of this story at This email address is being protected from spambots. You need JavaScript enabled to view it.