Details

Category: Europe
Published on Friday, 06 September 2013 11:30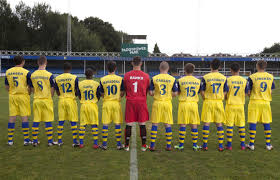 By Mark Baber
September 6 – English Football Conference South club Farnborough FC, who recently emerged from administration with support from bookmaker Paddy Power, have been given permission by the Football Conference Board to compete in the Conference from tomorrow, albeit the players will have to compete under their real names.
The club, part-rescued by a sponsorship deal with Paddy Power, had players and trainers of the team change their names by deed poll to those of famous current and past football legends. The league have insisted that the players use their original names.
Paddy Power, who have built a reputation for humouros and often edgy football promotion (remember Danish striker Nicolas Bendtner's fine for promoting the bookmaker on his underwear at Euros 2012) have expressed their lack of amusement at the turn of events.
"Farnborough FC have finally been re-admitted into the Skrill South today, but it will be without the likes of 'new signings' David Beckham, Lionel Messi and Pele as Football Conference killjoys failed to overcome a catastrophic sense of humour failure," said a Paddy Power statement.
"Despite bringing waves of positive publicity to the division and gaining Farnborough FC new fans from all over the world, the spoilsport administrators of the Conference refused Farnborough FC entry to the league unless the famous names were dropped."
Whilst the bookmakers accuse "faceless Football Conference gorps" of cowardice, it could be argued the administrators played a winning hand as Paddy Power have handed over a £100,000 bond as part of the conditions for the club to keep playing.
At a meeting on August 21 the Conference Board had laid down 13 terms and conditions for Farnborough to meet before they would be allowed to compete in the Conference. These have now been met and the Board says that it "now hopes the Club and its supporters will enjoy a bright and secure future in the Football Conference, commencing from Saturday 7 September with its scheduled home fixture against Dover Athletic FC."
Contact the writer of this story at This email address is being protected from spambots. You need JavaScript enabled to view it.