Details

Category: Europe
Published on Wednesday, 11 September 2013 11:05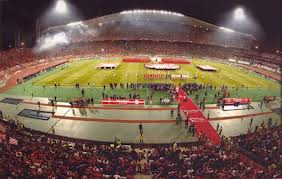 By Mark Baber
September 11 - As the deadline for candidates to inform UEFA of their candidacy to host matches of the 2020 European Championships beckons, Istanbul, Budapest and Belgrade have officially thrown their hats into the ring.
Istanbul officially declared its candidacy on Monday, on the same day that an under-21 game between Turkey and Sweden at the Recep Tayyip Erdogan Stadium was interrupted by tear gas as police attempted to crush anti-war demonstrations which have reportedly led to the death of a young protestor.
The Turkish Football Federation is hoping Istanbul will host the semi-final and final matches in 2020, now that Turkey's Olympic bid has been rejected in favour of Tokyo, Japan. Germany and England, who would have been favourites to host the 2020 finals games had the Istanbul Olympic bid been successful, both now look more likely to bid for group matches rather than the final games.
Hungary's Football Federation says it will submit a bid for Budapest to be one of the 13 venues to co-host the 2020 European Championship and federation chairman Sandor Csanyi said the capital's Ferenc Puskas Stadium, planned to be renovated and expanded by 2017 with capacity for 65,000 spectators, could potentially host the semi-finals and final.
Secretary general of the Football Association of Serbia (FSS), Zoran Lakovic, confirmed tp Serbian daily paper Blic that the FSS has applied for Belgrade to be a Euro 2020 host, with the option of building a new stadium or adapting an existing one both on the table.
The Euro 2020 championship will be co-hosted by 13 venues in 13 countries. Initial applications are due to be delivered by tomorrow with detailed bids to be delivered to UEFA in April, 2014.
Candidate cities announced include Munich, Budapest, Belgrade, Basel and Istanbul with more official announcements expected today and tomorrow and the final decision to be made by UEFA in September, 2014.
Contact the writer of this story at This email address is being protected from spambots. You need JavaScript enabled to view it.