Details

Category: Eurasia
Published on Thursday, 12 September 2013 13:55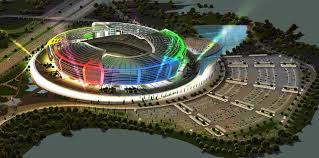 By Paul Nicholson
September 12 – Azerbaijan have added their name to the list of European nations bidding to host matches at the Euro 2020 tournament, putting forward Baku and the new Olympic stadium currently under construction as their venue.
Publicly supported by state president Ilham Aliyev, the Association of Football federations of Azerbaijan (AFFA) submitted their official application yesterday, building on what has been a growing appetite in this emerging country to showcase itself through sports.
Last year Azerbaijan hosted the 2012 FIFA Under-17 Women's World Cup, breaking records for the biggest crowds for this level of tournament. In 2016 Azerbaijan will host the UEFA Under-17 Championships. In July of this year the country hosted the 16-team Military World Cup.
Azerbaijan has also contributed sponsors to the confederation with the State Oil Company of Azerbaijan Republic (SOCAR) having become the seventh official sponsor of UEFA's national team competitions, including the UEFA European Football Championships, earlier this year.
SOCAR is one of the world's largest oil companies and ranked the 68th largest company in the world with a valuation of $20 billion. As part of the agreement SOCAR will be included in the commercial programme for this summer's UEFA European Under-21 Championship and UEFA Women's EURO 2013 final tournaments.
The Baku Olympic stadium, currently under construction and due for completion in 2015, will have a capacity of 68 000. Construction works began with a ground-breaking ceremony attended by Azerbaijan's president Aliyev and FIFA and UEFA presidents Sepp Blatter and Michel Platini.
The stadium will be used during first European Games to be hosted in Azerbaijan in 2015. The stadium complex is part of a wider development of the surrounding area (to include new hotels and parking).
Contact the writer of this story at This email address is being protected from spambots. You need JavaScript enabled to view it.