Details

Category: Europe
Published on Friday, 13 September 2013 10:34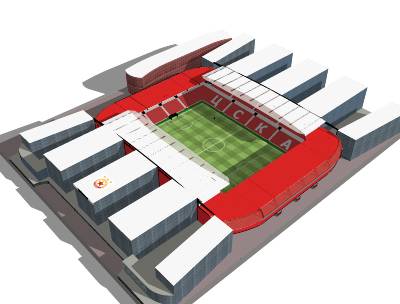 By Alexander Krassimirov
September 13 - Bulgaria's CSKA Sofia has turned down a €40 million investment offer for a new stadium from German company ISF, CSKA rejected the deal after failing to agree to conditions that included handing over the stadium to ISF to maintain and operate, shared use of the stadium with another club and the Bulgarian national team.
According to sources, the proposal was for CSKA to share the stadium with Slavia Sofia. The stadium was to be built on the land currently occupied by Slavia's arena, located in the suburbs of the Bulgarian capital. Currently CSKA play home games at the Bulgarska armia stadium, situated in the heart of Sofia, but cannot use it for games in European tournaments. A year ago, the club was given the venue on concession for the next 30 years.
"We refused because the stadium will be in the Ovcha kupel district. No one of our supporters would agree to move the club there," said the CEO of CSKA Sofia Alexander Todorov in interview with Standart Daily.
At the same time the president of Slavia, Ventsislav Stefanov, expressed disappointment at Todorov's poition, saying: "The idea of the company is for the stadium to be shared by two clubs. The desires of CSKA are downright pathetic! I can tell you that CSKA is trying to bully seriously ISF, but the people just want to invest. They (CSKA) are only interested in how much money they will receive. They will get €5 million per year if they play at this stadium. This is for the good of Bulgarian football."
Stefanov vowed that he would find another club who is willing to share the arena with Slavia, and hoped that it will be ready for operation for the start of 2015/2016 season.
Contact the writer of this story at This email address is being protected from spambots. You need JavaScript enabled to view it.