Details

Category: Europe
Published on Wednesday, 18 September 2013 11:38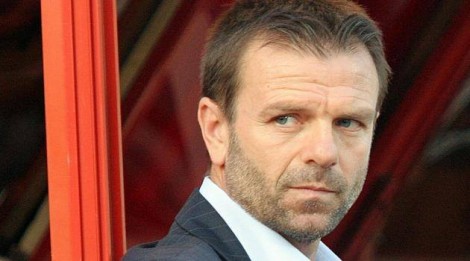 By Alexander Krassimirov
September 18 - The head coach of Bulgarian CSKA Sofia Stoycho Mladenov (pictured) said he is expecting a murder at the Bulgarska armia stadium. Mladenov was speaking after CSKA's 6-2 win over FC Haskovo in the Bulgarian Cup.
At the press conference after the game, Mladenov revealed that his son Stoycho Mladenov Jr., who is his assistant, was attacked by a masked man.
According to Mladenov, the attacker is someone who is close to the former owners of the club Titan AS.
"I have no mood to talk about anything at the moment. We cannot overlook those things lightly. I want to warn the police and the public. Things that happened here are very, very unpleasant. We are talking for incidents with me, with the players of the team, with people from the club. It cannot continue like this. Some people irritate the environment here," said Mladenov.
"There was a big accident today. One of my assistants (his son Stoycho Mladenov, Jr.) was attacked at the parking in front of the stadium. A hooded man attacked him. He is known to the police. My son is safe because at that time there were people there. Things cannot continue like this. The atmosphere here is like a time bomb. It is going to be a murder here!"
Two months ago Mladenov was attacked and threatened by former club owner Kaloyan Stoyanov. The attack was prompted by a dispute over a foreign player who was brought in the team by Stoyanov, but who Mladenov had released. Mladenov immediately alerted the police and later Stoyanov was detained for 24 hours. Stoycho Mladenov and his staff also gave a statement to police. After the brawl, Mladenov said that he feared for his life and would most likely employ bodyguards.
Contact the writer of this story at This email address is being protected from spambots. You need JavaScript enabled to view it.