Details

Category: Europe
Published on Tuesday, 24 September 2013 11:47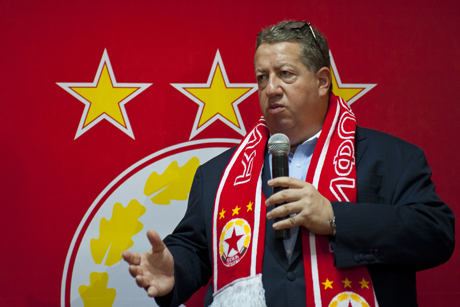 By Alexander Krassimirov
September 24 - Bulgaria's CSKA Sofia will work together with Scottish giants Celtic, according to Laurence Davis, the English chairman of the club's Supervisory Board.
The British businessman was on a three-day visit to Bulgaria, his first since he was named as the head of the club in July this year.
Davis said he has held talks with his counterparts from Celtic and soon expected both clubs to start cooperating. He revealed that he had also held talks with Everton and business groups from Qatar, the UAE and other countries from the Middle East.
The main task of the new leadership of CSKA will be to bring back the club in the Champions League and create a strong youth academy.
"When I was young, I loved the football a lot. At that time, one of the biggest names in Europe was CSKA. Everybody knows how they conquer Liverpool in the European Cup (now Champions League). CSKA is an illustrious club, giant with many problems at the moment, which suffered from its previous owners, but it will no longer continue", Laurence Davis said at a press conference in Sofia.
"In the last two days I talked to many people and saw a lot of enthusiasm, but also a concern. The main goal that we set is to bring the team back in the Champions League. After the problems in the summer when we were left with only two players, now we have a strong coaching staff and a much better team. During the winter will bring more new players", he added.
"We had talks with Celtic and we're close to partnership. I have talked with Everton, as well as representatives from Qatar, UAE and other Middle East countries. CSKA should develop a strong youth academy, because everyone knows that footballers like Dimitar Berbatov, Hristo Stoichkov, Stiliyan Petrov and Martin Petrov, all started their careers at CSKA."
"It is clear that we will never be able to afford to buy Gareth Bale, but we can create it. Moreover, the Bulgarian national team is stronger than that of Wales", concluded Laurence Davis.
Back in August, CSKA signed a contract with financial consultants and accountancy firm Ernst & Young. The club is preparing to become Bulgaria's first quoted club.
Contact the writer of this story at This email address is being protected from spambots. You need JavaScript enabled to view it.