Details

Category: Europe
Published on Monday, 30 September 2013 12:27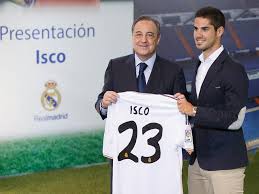 By Gareth Messenger
September 30 - A court in Valencia has told Real Madrid attacking midfielder, Isco Alarcon, that he must pay €2.6 million to Eleven Sports.
The company, formerly called IMG, were the former agents of the 21-year-old Spanish playmaker. Now, the sports agency is set to receive a financial windfall from the youngster after they filed a complaint regarding the 'unilateral' breakdown of a relationship between the two parties, which was set to end in 2016 according to the contractual agreement.
IMG negotiated the move which saw Isco move from Valencia to Malaga in 2011. The agency is demanding part of the buy-out clause, for which Malaga paid €6 million, as well as the corresponding commission for the transfer. However, for this, the judge has not made an award at this time.
However, the new ruling has recognised that the agreement between Isco and IMG was set to officially end in 2016, therefore, another part that the plaintiffs claim is in relation to his sponsorship contract with sportswear giant Nike. This was another deal that was negotiated by IMG.
The reason for the large fine is regarding his recent summer move to Real Madrid, as according to IMG, it upholds the terms and conditions of Isco's contract with the company, as well as the percentages, and it is based on his current contract with Los Blancos.
Isco accepted that he had a contract until 2014, but his father took over his affairs after the break with IMG. The Spaniard's argument was that IMG got rid of their football department, which he thought allowed him to leave the firm.
Contact the writer of this story at This email address is being protected from spambots. You need JavaScript enabled to view it. . Gareth Messenger is editor in chief of www.laliganews.tv