Details

Category: Europe
Published on Thursday, 03 October 2013 12:54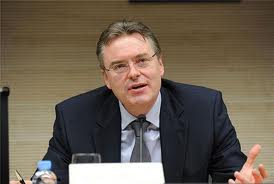 By Mark Baber
October 3 - The challenge to UEFA's Financial Fair Play (FFP) regulations by Daniel Striani, is due in Brussels' Court of First Instance today in what will be a short hearing to set a schedule for handling the complaint lodged in May.
Striani, an Italian football agent who lives in Belgium, has lodged a complaint with the European Commission on the basis that UEFA's Financial Fair Play Regulations are anti-competitive and will negatively impact on his ability to generate income.
It is a challenge that has been touted as potentially having as significant and impact as that of the Bosman ruling, and it is perhaps not surprising that Striani is being represented by the same lawyer who represented Bosman in 1995 - Jean-Louis Dupont (pictured).
UEFA's Executive Committee adopted the concept of financial fair play to protect the long term sustainability of European club football, improve club finances, limit player wage inflation, encourage clubs to live within their means, encourage investment in youth infrastructure and to ensure clubs settle their debts on a timely basis.
The system is overseen by the Club Financial Control Body with national associations also adopting the model for their national leagues.
Striani's challenge is expected to be based on the break-even rule restricting outside investment in clubs, dampening the transfer market and player salaries, and effectively ossifying the current hierarchy of clubs by preventing clubs operating at a loss from breaking into the top tier.
Key questions for the EU courts in considering the case include whether the system set up by UEFA is compatible with EU competition law and the Internal Market provisions, whether the objectives pursues are legitimate and, regarding restrictions on competition, whether the rules are proportionate to the objective.
In considering these matters, and the question of proportionality, other possible systems of regulation which may be less anti-competitive, may be considered, and it seems likely UEFA will have a lengthy legal battle on their hands to defend FFP, just as its effects are playing out.
Contact the writer of this story at This email address is being protected from spambots. You need JavaScript enabled to view it.