Details

Category: Europe
Published on Monday, 07 October 2013 10:42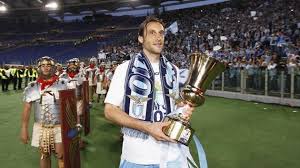 October 7 - Lazio captain Stefano Mauri has had his ban for failing to report match-fixing increased to nine months after losing an appeal against the original six-month suspension, effectively ruling him out for the rest of the season.
Italy's federal court of appeal increased the ban and rubbed salt in the wound by also increasing a €40,000 euro fine imposed on Lazio to €50,000.
The player's legal team described the ruling as "not only unjust but incomprehensible" and have 10 days to contest the decision at the Court of Arbitration for Sport (CAS).
"After prison, house arrest, allegations of illegal sports betting ban and after two degrees in front of the sports justice, I am paying for my friendship with Alessandro Zamperini with nine months disqualification," the midfielder wrote on his own website.
Zamperini was banned from the game for seven years for his role in the "calcioscommesse" scandal. During his testimony he claimed that Mauri was not involved in match-fixing.
Mauri, 33, had initially been banned for six months for staying silent over the controversial fixture between Lazio and Lecce in May 2011. He was one of eight players accused of sporting fraud relating to that game and one against Genoa, both of which ended in 4-2 wins to Lazio.
Mauri's career is now in serious jeopardy since his contract with the Serie A club expires at the end of the season. He had hoped to clear his name and be back in action for the club he has served since 2006.