Details

Category: Europe
Published on Tuesday, 08 October 2013 10:40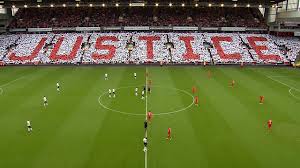 By Andrew Warshaw
October 8 - The 1989 Hillsborough stadium disaster has again burst into controversy with reports that video filmed by police may have been deliberately edited.
Fresh inquests into the deaths of 96 Liverpool fans during the 1989 FA Cup semi-final are due to begin on 31 March next year but at packed pre-inquest hearing into Britain's worst sporting tragedy, the barrister representing some of the families of the victims revealed an expert witness had looked at the hand-held video and concluded the pictures may have been edited.
It was also disclosed that 74 more police statements were allegedly tampered with than originally stated - a figure that suggests a far wider cover-up than previously thought.
Twenty-one sets of lawyers are now involved in the case with thousands of documents being analysed for evidence. But the coroner in charge, Lord Justice John Goldring, told the pre-inquest hearing that the new inquests would begin on time.
"I certainly remain committed to that date and it is partly for that reason that I have sought, obviously through those who are helping me, to drive those investigations forward as much as I can," he said.
The disaster took place at Sheffield Wednesday's Hillsborough stadium on 15 April 1989 when fans were crushed to death at the FA semifinal between Liverpool and Nottingham Forest.
The original inquest verdicts of accidental death were quashed in December, three months after damning findings were released by the Hillsborough Independent Panel which found that 41 of the 96 who died had the "potential to survive".
Contact the writer of this story at This email address is being protected from spambots. You need JavaScript enabled to view it.