Details

Category: Europe
Published on Wednesday, 09 October 2013 09:41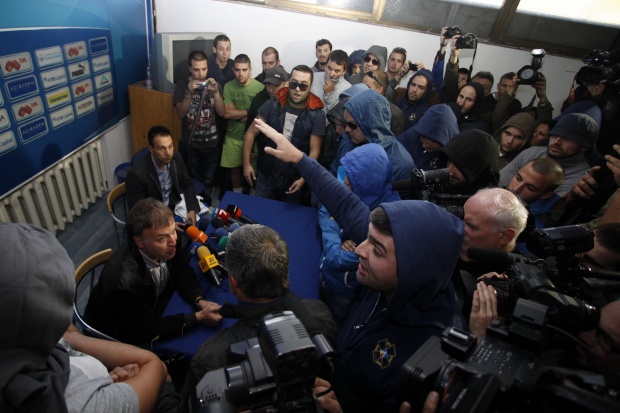 By Alexander Krassimirov
Ocotber 9 - Frantic fans of Levski aggressively interrupted the first news conference of the new team coach Ivaylo Petev. A group of about 10 ultras broke into the briefing room and ordered him to take off his cliub shirt.
The ultras, most of them hooded, surrounded the table where Petev, sporting director Nasko Sirakov and the press officer of the club were sat. The incident took 20 minutes to clear.
The fans protested that they did not want Petev as the new coach of Levski and that he should not be wearing the club colours. They claimed he was a supporter of rivals CSKA and that there was no way they would allow him at Levski. They said they supported the previous manager Serbian Slavisa Jokanovic.
Fans gave Petev an ultimatum of 5 seconds to take off the shirt with the team badge, then the ultras started to pull away his shirt and eventually ripped it off it. After the incident Petev quickly left the room and was not available for immediate comment.
Levski, Bulgarian champions on 26 occasions, were unveiling Petev after sacking Jokanovic earlier yesterday following a poor start to the new season.
Petev, 38, is considered to be one of the best young coaches in the Balkan country after leading Ludogorets to back-to-back league titles but Levski fans believe he is a supporter of bitter city rivals CSKA Sofia.
After the incident at the Georgi Asparuhov stadium, the head of the Board Ivo Tonev and sporting director Nasko Sirakov resigned.
Sirakov, the club's all-time leading scorer with 206 goals between 1981 and 1994, said: "I will not stand here any longer. This is not my Levski and it's not our audience. It's a shame and a disgrace to the club. I gave 80% of my life to this club and I got a lot from the club. I participated in 12 titles, but I cannot work in such an environment. This is the hardest day in my life, but I wonder if there's a place in the world where the fans choose the coach."
Watch the video at http://www.youtube.com/watch?v=sxo5Z0rSgkU
Contact the writer of this story at This email address is being protected from spambots. You need JavaScript enabled to view it.