Details

Category: Europe
Published on Thursday, 10 October 2013 09:10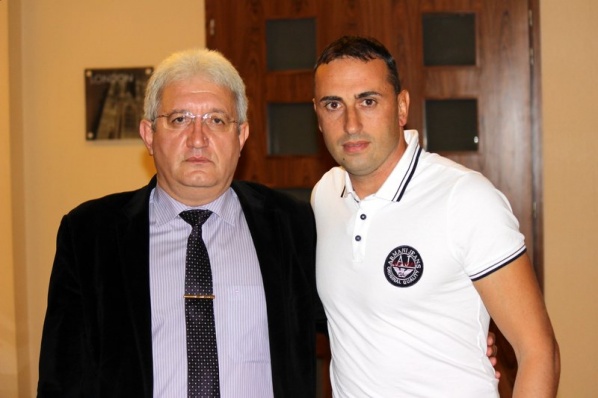 By Alexander Krassimirov
October 10 - Supporters of Bulgaria's Levski Sofia have won their fight to get rid of new coach Ivaylo Petev, who has resigned just 24 hours after his appointment.
As reported yesterday, Petev (pictured right with his agent) took over the team from Serbian coach Slavisa Jokanovic, but in his official presentation to the media furious fans attacked Petev and stripped him of his shirt in front of journalists and photographers.
The fans claimed that Petev was a supporter of bitter rivals CSKA Sofia and vowed he would never be allowed to lead the team.
Immediately after the incident, two of the club's most senior executives, Ivo Tonev and Nasko Syrakov, resigned. Meanwhile the owner Todor Batkov stated that Ivaylo Petev would continue to lead the squad.
But just 24 hours later, Petev, who was recently fired from Bulgarian champions Ludogorets Razgrad, said he was quitting his post. He announced his resignation at a special press conference in a hotel in Sofia, while at the same time Batkov had a meeting with Levski supporters at the Georgi Asparuhov stadium. No media were allowed to attend the fan meeting.
Petev, who was accompanied by his agent, said: "I want to thank the leadership of Levski for the invitation. I accepted it with the best intentions and I was eager to work and help to change the situation. What happened yesterday was ugly and I don't want to work in such an environment in the club which will celebrate its 100th anniversary.
"Yesterday I felt like a criminal and a thief. I talked with my family and their opinion is important to me. For me the incident was planned. I have no idea by who, but I'm the least guilty in this case. I did not think that this could happen in the 21st century. To me this is insane. I was ready for this challenge. I told you yesterday, I'll say it again: I have no sympathies with another metropolitan club."
Batkov has announced that Antoni Zdravkov, who until yesterday was in charge of the youth academy, will take over. His assistants will be Elin Topuzakov and Marian Hristov - all were part of Jokanovic's coaching staff.
Contact the writer of this story at This email address is being protected from spambots. You need JavaScript enabled to view it.