Details

Category: Europe
Published on Tuesday, 15 October 2013 12:16
By Alexander Krassimirov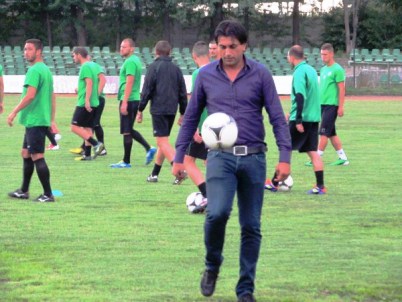 October 15- The players of Bulgarian first division club Neftohimic Burgas have agreed to play without wages in an attempt to save the club from bankruptcy.
The newcomers to the Bulgarian top flight have faced serious financial difficulties from the start of the season, and the executive director of the club Kostadin Djambazov (pictured) announced this week that negotiations for a new sponsor have failed.
The team was on the edge of bankruptcy and for a while it looked like it would be relegated from the top league to the Bulgarian amateur leagues.
Djambazov told the players who do not own homes in the region that the club could no longer continue to pay rent for their lodgings. After long discussions, the other players have had agreed to play without financial claims and salaries, allowing the team to continue to participate in the league.
It is unclear whether the agreement with the players will allow the club to keep its league status.
To date Neftohimic have played their home games at Lazur stadium in Burgas, owned by the Chernomorets club. Djambazov said they could not pay rent for the facility and instead will play their home games in Nessebar - one of the best beach resorts in Bulgaria, which is located about 30 km away from Burgas.
"We are doing everything possible to stay in the league. We have released the guys who are not from Burgas, as we cannot continue to pay for their apartments. We will remain only with the local guys and will do everything possible. At the moment we have no funds. At the moment the team has only 14 players. Of course we can use some boys from our youth system. There is no light in the tunnel. It is very dark.
"At this stage there is no funding . In this situation it is hard to work, but here things come to honor. Thank you to the guys that showed understanding. We will play our home games in Nessebar, as the rent of Lazur stadium is unbearable for us. Rent so far has not been paid and we do not want more debt piling up," said Djambazov.
Contact the writer of this story at This email address is being protected from spambots. You need JavaScript enabled to view it.