Details

Category: Europe
Published on Monday, 21 October 2013 12:37
By Andrew Warshaw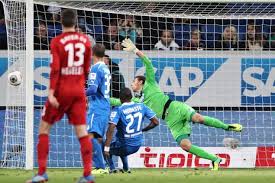 October 21- German football's decision not to employ goal-line technology has been brought into sharp focus by a bizarre and controversial "phantom" goal in the Bundesliga, pictures of which have been flashed across the world.
Hoffenheim are to protest against the freak goal awarded to Bayer Leverkusen last Friday when referee Felix Brych failed to spot that Stefan Kiessling's header hit the side netting but entered through a hole.
"It's a scandal," said Hoffenheim managing director Alexander Rosen after his team were beaten 2-1. "That was no goal, there are no two ways about it. We are definitely going to protest."
Brych, a Fifa referee whose next assignment is the high-pressure Champions League clash between Milan and Barcelona on Tuesday, said he awarded the goal since no-one had protested.
"I had a slight doubt but the reaction from the players was clear - nobody said to me that the ball did not go in," Brych was quoted as saying. "I checked with Kiessling. But no-one, not even him, said that it wasn't a goal. The ball was in the net and for everyone on the pitch it was a legitimate goal."
Former German striker Rudi Voller, Leverkusen's sporting director, admitted: "That's not how we wanted to win the game. The fair result would have been a 2-2."
A German company, GoalRef, has won the tender for next year's World Cup finals but domestically German officials say the cost of introducing goal-line technology is not justified given the paucity of cases of whether the ball has crossed the line.
Kiessling has apologised saying he could "fully understand the reactions" to the goal. On his Facebook page, he wrote: "After seeing the replays on television, I can clearly see that it was not a legitimate goal. I'm sorry for all sports fans. Naturally, it's not nice to win like that. Fairness is important in sport, for us in the club and for me personally."