Details

Category: Europe
Published on Wednesday, 30 October 2013 13:32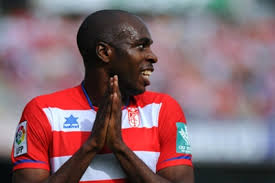 By Gareth Messenger
October 30 - The main supporters group of Spanish La Liga club, Elche, have publicly admitted they were responsible for racist abuse directed at Granada defender Allan-Romeo Nyom (pictured) at the Estadio Martinez Valero on Saturday.
Referee Carlos del Cerro Grande stopped the game, in the 89th minute so the stadium announcer could tell those inside the ground to stop directing monkey chants at the player.
Fans group 'Agrupacion de Penas del Elche CF' issued a statement admitting that the abuse had taken place, but fell short of issuing an official apology to Nyom.
"The Agrupacion regrets the contempt shown towards an opponent, for the serious consequences which can be taken as a result against the club, set out in the law against violence, racism and xenophobia, and for the negative image which this gives of our fans," the statement said.
A club in La Liga where the supporters are found guilty of racist abuse can be fined up to €60,000 and have their ground closed for subsequent games.
Footage of the game showed Nyom displaying his anger at the chanting by kicking a ball into the crowd and refusing to take a throw until action was taken. He was cautioned by the referee for refusing to continue with the game, but the officials later told stadium announcers to tell supporters in the stadium that the chanting had to stop immediately.
According to the local press, two members of ultras group 'Jove Elx' were identified by police in Elche as being among those guilty of the abusive chanting.
"In minute 89 of the game, after the ball went over the line for a Granada throw-in, the fans in the corner closest to that action, all followers of Elche, began to make the onomatopaeic noise of 'monkey' in a repeated fashion, directed towards the player of black origin of the visiting team - Allan Romero Nyom," referee Del Cerro Grande's official report said after the game, explaining what he heard and how he dealt with the situation.
"Immediately I proceeded to apply the 'Protocol for actions against Racism, Xenophobia and Intolerance in Football' and asked the on-pitch delegate to communicate over the stadium loudspeaker that this behaviour by the public must immediately stop. After this action was taken, it did not occur again during the rest of the game."
Contact the writer of this story at This email address is being protected from spambots. You need JavaScript enabled to view it. . Gareth Messenger is Editor-in-Chief of www.laliganews.tv