Details

Category: Europe
Published on Friday, 08 November 2013 12:55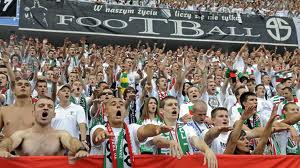 By Jaroslaw Adamowski
November 8 - Poland's Legia Warsaw has unveiled Central Europe's leading betting operator Fortuna Entertainment Group as its new main sponsor. The deal will come into effect next year and last until end 2016.
According to reports in the local media, the deal is worth about 6 million zloty (€1.44 million) per year, up 50% from 4 million zloty (€960,000) per year paid by Legia's previous sponsor, manufacturer of ink and toner cartridges ActiveJet. The new contract will enter into force on January 1, 2014, which means that Legia's squad will carry the manufacturer's logo until the end of this year.
"Having Fortuna as our main sponsor is a reason for great satisfaction," said Jakub Szumielewicz, member of board and executive director of Legia Warsaw.
"Fortuna is a partner which has a very solid business record and prior experience in cooperating with well-known sports clubs."
With record revenues of 66.4 million zloty (€15.9 million) posted in 2012, an increase of 4% compared with a year earlier, Legia Warsaw has the biggest budget of the 16 clubs in Poland's Esktraklasa, the top tier of the country's professional football league.
Established in 2009 and based in Amsterdam, Netherlands, Fortuna Entertainment Group is active in the Polish, Czech and Slovak betting market. In the first nine months of 2013, Fortuna accepted bets worth €405.2 million, up 21.3% from the same period last year, according to figures released by the group. From January to September 2013, Fortuna reported an EBITDA of €18.1 million, a year-on-year increase of 36.2%.
Contact the writer of this story at This email address is being protected from spambots. You need JavaScript enabled to view it.