Details

Category: Europe
Published on Monday, 09 December 2013 12:30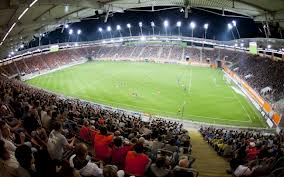 By Jaroslaw Adamowski
December 9 - Following a series of defeats which pushed the football club towards the relegation zone of Poland's Esktraklasa, the Ultras of Zaglebie Lubin assaulted one of the club's players, damaged another one's car with bricks and threatened to assault a third player.
Slovak midfielder Robert Jez was brutally beaten next to his house by three men who are now being sought by the police. Meanwhile, another group threw bricks at the car of Polish goalkeeper Michal Gliwa, while Latvian forward Deniss Rakels has been receiving threats indicating that he could be also targeted by the club's Ultras.
Following the attacks, Jez and Gliwa have said they want to terminate their contracts with Zaglebie Lubin and are looking for new clubs. The violent incidents were condemned by Zaglebie's management.
"We condemn all forms of aggression and believe that the law enforcement authorities will shortly identify the perpetrators who will not avoid punishment for the crimes they have committed," Zaglebie said in a statement. "The club is cooperating with the police to solve both cases. We will put all our efforts to provide the employees of our club with safe working conditions."
Meanwhile, in a bid to force the club's squad to improve its performance, some of Zaglebie's Ultras are chanting "If you don't play, you should be scared" at home games.
Established in 1945, Zaglebie currently plays in the Esktraklasa, the top tier of Poland's professional football league. The club won the Polish championship in 1991 and 2007. Zaglebie's stadium has a capacity of 16,068.
Contact the writer of this story This email address is being protected from spambots. You need JavaScript enabled to view it.