Details

Category: Europe
Published on Friday, 13 December 2013 11:45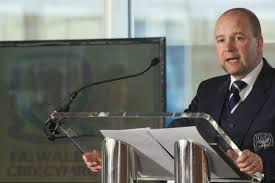 By Andrew Warshaw
December 13 - Wales could be a surprise bidder for the 2026 World Cup in partnership with England and/or other British federations. Cardiff has already been selected to host next year's UEFA Super Cup, only the second time it has not been staged in Monaco, and Wales First Minister Carwyn Jones said his country was keen to use the opportunity to further its credentials.
Wales are understood to have considered a joint bid for Euro 2020 before UEFA president Michel Platini decided on his unique pan-European format. The Welsh are hoping to be one of the venues chosen but eventually want to go even further than that.
"We are talking with the Football Association of Wales about bidding to be one of the venues for the 2020 European Championships, we want a Champions League final... and then there is the World Cup in 2026," said Jones.
"The most likely joint bid would be with England and we know we have three good stadia we can offer. By 2026 we can get the Liberty Stadium and Cardiff City Stadium up to 30,000-plus to supplement the Millennium Stadium."
He was backed by FAW chief executive Jonathan Ford, who added: "We know where the World Cup is going in 2018 and 2022, but the process thereafter has yet to be determined."
Contact the writer of this story at This email address is being protected from spambots. You need JavaScript enabled to view it.