Details

Category: Europe
Published on Friday, 13 December 2013 11:57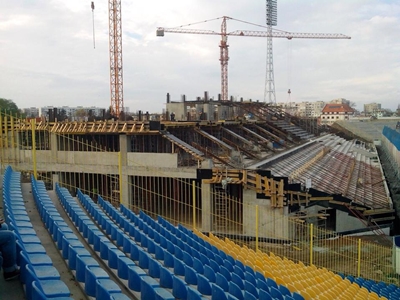 By Alexander Krassimirov
December 13 - Bulgarian club Levski Sofia has put the reconstruction of its Georgi Asparuhov stadium on hold which new money is sought to complete the build.
The main stand has already been demolished to begin construction of the new facility. Construction of the largest stand in the stadium was sheduled to be completed in May next year, when the club celebrates its 100th anniversary.
However, currently, Levski has fallen into serious financial difficulty forcing the project is currently halted, said the club's owner lawyer Todor Batkov.
The Blues boss added that there was no news about the negotiations with Russian energy giant Gazprom about investment on the club and the facility.
At the same time it became clear that the club will end its partnership with Russian bank VTB Capital. The financial institution had sponsorsed Levski since last year, but the contract between the two parties will not be renewed.
"The construction of the stadium is not going as planned. Obviously there is a delay and you can see it. We have money only for the wages of our players and employees. If there is any development with the deal with Gazprom we will announce it," said Batkov.
"I am waiting for some details about the construction of the stadium and will come up with a clear position about that at the end of the year. The delay of building works is because of lack of money. This project came up a little bit early for us. I do not see who we could attract as a sponsor in Bulgaria. There are no big sponsors in Bulgaria, except Mtel, with who we have been partners for 15 years. Our contract with the mobile company is till June next year. We will finish the relationship with our second sponsor VTB Capital."
Contact the writer of this story at This email address is being protected from spambots. You need JavaScript enabled to view it.