Details

Category: Europe
Published on Tuesday, 21 January 2014 12:47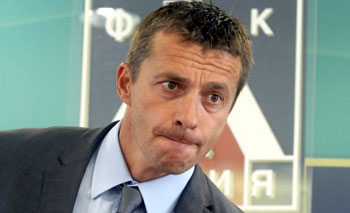 By Alexander Krassmirov
January 21 – Serbian former head coach of Levski Sofia Slavisa Jokanovic has threatened to sue the Bulgarian club for unpaid wages. Jokanovic took over the team in July 2013, but remained at the helm just three months before being sacked last October because of poor results.
Jokanovic gave an extensive interview for Bulgarian TV Channel 3, in which he revealed that Levski owes him about €100,000 in severance payments. The sum should have been paid before January 15, but so far he has not received anything.
Slavisa Jokanovic said he will be forced to notify FIFA and ask for their help.
"When I was fired I talked to the bosses of the club for the way in which we split . Levski still has not fulfilled their promises. Levski is a big club and I believe it will fulfill its obligations. They have to pay me the amount that I had to get for my contract," said Jokanovic.
"Everything I have to get is very clearly written in the contract. I have a document
that clearly states what should I be paid and when. We should have been finished with this story, but Levski have not yet begun to pay me what we agreed. And I am already thinking what to do from here onwards.
"However, we are professionals. Maybe I should apply this document to the Bulgarian Football Union , or FIFA or UEFA. It is ugly, but when they did not pay me, I have to do something."
Janovic who had previously coached Serbian giants Partizan Belgrade said that he considered his stay at Levski a mistake. "Yes, I made a mistake when I came to Levski. They had promised me things that ultimately proved unrealistic."
Contact the writer of this story at This email address is being protected from spambots. You need JavaScript enabled to view it.