Details

Category: Europe
Published on Tuesday, 28 January 2014 10:33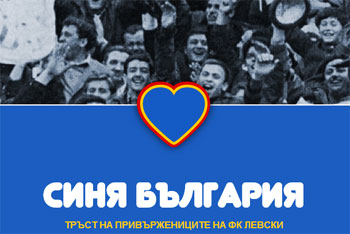 By Alexander Krassimirov
January 28 - Dissatisfied with the management of Levski Sofia fans decided to create a supporters' trust. The association will be named Blue Bulgaria, and its purpose will be to raise funds that will be invested in the club, but only under certain conditions.
The trust is modeled on trusts in England, where there are over 140 in operation, and which in some cases give the trust ownership rights – an objective of the Blue Bulgaria group. A supporters' trust is a democratic and not-for-profit organisation generally formed to strengthen the influence of supporters over the running of the club they support.
The bulk of the funds will be raised through membership fees and donations. The plan is to make investment into the trust affordable to enable as many Levski supporters as possible to participate in the organisation. One of the main objectives of Blue Bulgaria is to support the club's youth academy.
"Good football. Dedicated players. Glorious victories. Great atmosphere . Wonderful stadium. Do you want it to be Levski Sofia? We want this. Unfortunately, today's reality is such that the club does not use well its resources and priorities are related to private interests. Our goal is quite simple. We fight for a future in which fans of Levski Sofia have a significant share of the club. We have created this association because we believe in two things. The first is that the fans , not investors , are what brings the life of a club.
Our support, our love , our passion and, not least, our money have built a large part of the legend of Levski Sofia. And because we believe wholeheartedly in this, second important thing is that the priorities of the club should be a reflection of our own priorities," said organizers of the association.
Representatives of the trust have already held a meeting with the club's owner Todor Batkov who also expressed a desire to join the organization .
"Todor Batkov desire to become a regular member of the trust and a donor at its discretion, and to attend the inaugural meeting because he said that trust is something that he wanted to exist in different forms," said one of the founders of the trust, Vasil Kolev after Batkov.
Contact the writer of this story at This email address is being protected from spambots. You need JavaScript enabled to view it.