Details

Category: Europe
Published on Wednesday, 29 January 2014 10:15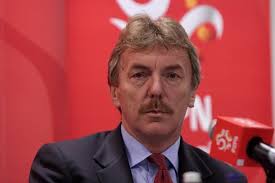 By Paul Nicholson
January 29 – The President of the Polish Football Association, Zbigniew Boniek, has joined the Supervisory board of Poland's Ekstraklasa, the country's top league.
Boniek is a Polish legend who extended his football career after he finished playing as a football administrator within the Polish FA, even stepping in to coach the Polish national team for a while.
The Polish FA is one of Ekstraklasa's stakeholders and as such has a permanent position on the board. Other board places are held by members from each of the top four clubs from the previous season, plus two others elected from the other 12 clubs.
The Ekstraklasa has undergone a great deal of change in the past two years, both at club and league level. Prompted by a requirement to make the league more attractive for media partners and sponsors, the league was revamped for the 2013/14 season with the 16-team format being broken into two phases - the second phase coming after the first 30 games when the top eight and bottom eight teams split to play a further seven games.
Polish football has suffered in the economic downturn across Europe. Despite co-hosting the European Championships in 2012 with Ukraine, the club game did not experience the expected boost commercially with many of the league's clubs struggling.
This has lead to many clubs having to readjust in some cases look for more support from their local government. But signs are that the readjustment is working and there is a new reality as well as sponsors and investors coming into the league.
Boniek is not lacking in football credibility or knowledge and his appointment will certainly help raise the profile of the league domestically, and internationally. Capped 80 times for Poland, he scored 24 goals and played at three world cups (1978, 1982 and in the third placed finish of 1986).
His club career started in Poland and he won two league titles with Widzew Łódź, before moving to Juventus in Italy where he won the European Cup, European Super Cup, UEFA Cup Winners' Cup, league Championship and Italy Cup (second with AS Roma).
In 2012 Boniek was elected the President of Polish Football Association. He had previously worked for the FA as a vice president of marketing, He has also served on the board of his old club Widzew.
Contact the writer of this story at This email address is being protected from spambots. You need JavaScript enabled to view it.