Details

Category: Europe
Published on Tuesday, 11 February 2014 10:05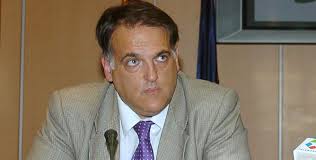 By Paul Nicholson
February 11 - Details of the proposed new TV rights distribution law that will govern Spain's top 20 clubs in La Liga are emerging. The legislation, designed to reduce the big gaps in broadcast revenue between the top two clubs, Barcelona and Real Madrid, and the rest will mean that the top earning club will not be able to receive more than four times as much broadcast income as the bottom earning club.
Real Madrid and Barcelona currently earn about €140 million each from their TV deals, about 6.5 times more than the bottom clubs. This income will not be cut, but it will not grow while other clubs catch up to the new levels stipulated in the law. This is anticipated to take two seasons.
Unlike other European leagues where broadcast rights are sold collectively, the clubs in the Premiera can sell their rights individually or packaged with other clubs of their choosing, usually through an agency with MediaPro being the dominant rights broker in the Spanish market.
It is not anticipated that Spain will move to centralisation of TV rights sales, like the successful Premier League and Bundesliga models.
The detail of the proposals was released via email from La Liga president Javier Tebas, reported Bloomberg. Spain's government is currently preparing a Sports Law which is expected to be passed later this year, but so far few details of the law's proposals have been released.
Governance of football is going to be central within the law with the objective of protecting the league which is seen as being an important part of 'Brand Spain' by the country's leadership.
Real Madrid and Barcelona top the rich lists of football clubs worldwide. Deloittes recently released ranking of clubs by revenue for 2012/13 had Real Madrid topping the list with €518.9 million, Barcelona second with €482.6 million and Germany's Bayern Munich third with €431.2 million. The third highest Spanish club on the list was Athletico Madrid with €120 million.
Last December Barcelona and Real Madrid were among four Spanish teams that were fined for breaking Spain's broadcast competition rules. Alongside Sevilla and Racing Santander they were sanctioned for signing contracts with agency Mediapro for longer than the permitted three years, a regulation established in 2010.
Real were fined €3.8 million, Barcelona €3.5 million, Sevilla €900,000 and cash-strapped Racing Santander, who have plummeted into the third division, €30,000. MediaPro said they would appeal the decision.
Contact the writer of this story at This email address is being protected from spambots. You need JavaScript enabled to view it.