Details

Category: Europe
Published on Wednesday, 19 February 2014 10:23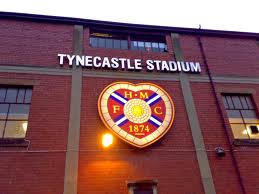 February 19 - Fans of embattled Scottish Premier League club Heart of Midlothian are being asked to contribute financially for a further two years as the club transitions out of insolvency towards fan ownership and, hopefully, stability.
Ann Budge, the businesswoman who is funding the Foundation of Hearts' £2.5million Creditors' Voluntary Arrangement to take the Edinburgh club out of administration, says that without the continued fan support it will not be possible to complete the task.
She is funding the CVA through her BIDCO (1974) company and will become chairwoman of the football club. She will not seek repayment for two years, at which point she expects to be able to hand over control of the club to the Foundation of Hearts. In the meantime money raised by the fans will be used by the club to run the business.
The Foundation of Hearts estimates that fans will have to raise £6 million over the next five years to move the club into financial stability and for the ownership to pass over to the supporters
7,800 fans have already signed up to the monthly pledge fund and Budge is asking for more to join them.
In an email to the club's 55,000 supporter database she said: "We all know the task ahead. Firstly, to ensure the club survives; secondly to ensure it is re-stabilised financially, with the strongest possible foundations to ensure its future. These are the tasks I am offering to take on; but I will not succeed without your continued support.
"My task, as I see it, is to ensure that when I hand the club over to you, the supporters, I will be handing over a club in good shape and with sufficient resources to face the challenges of the future. To achieve this the club needs investment over the next two years to stabilise and then build a solid financial base.
"Some of you are asking how long you might be asked to contribute. Right now, the club needs your financial support to see us through the next two years. Thereafter your contributions are required to secure supporter ownership.
Budge has agreed a deal with the club's administrators BDO to buy of the shares from the club's majority shareholder UBIG, the bankrupt Lithuanian bank which holds a 78.97% stake. The deal needs to be ratified at a UBIG creditors' meeting, scheduled for late March. The CVA should be completed in April.
Hearts are currently at the bottom of the Scottish Premier League and, with the points deduction for entering administration, look certain to be relegated. Budge has called for fans to keep attending matches and buying merchandise so that the club can get through the next period and move from private to fan ownership.
Contact the writer of this story at This email address is being protected from spambots. You need JavaScript enabled to view it.