Details

Category: Europe
Published on Thursday, 27 March 2014 12:13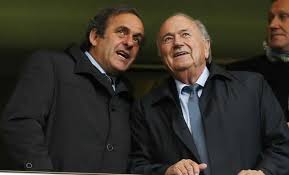 By Andrew Warshaw in Astana
March 27 - UEFA President Michel Platini says he is the only possible candidate who could get more votes than Sepp Blatter among FIFA's 209 member nations if the pair go head to head at next year's presidential election.
Platini has steadfastly insisted he will not decide whether to leave UEFA and go for the top job in world football until after the World Cup in Brazil and stuck to that line in a briefing with selected reporters following today's UEFA congress in the Kazakhstan capital.
But in a remark that upped the ante in terms of the global guessing game ahead of the election in late May, 2015, the Frenchman said those who are convinced he would gain little support outside his European power base should think again.
Platini, who has been president of Europe's governing body since 2007, used to be Blatter's senior advisor but the relationship between the pair (pictured in happier times) has cooled of late on a number of fundamental issues. Indeed, Platini - to the surprise of many - used his address at UEFA's Congress here to take FIFA to task for dragging its feet in trying to stamp out third party ownership.
Later, whilst making it clear he was perfectly happy at UEFA, Platini told a group of reporters: "There is only one person who can beat Blatter." Asked who that was he pointed to himself and said: "Me but I stress the word 'can' not 'will'".
And with support, he added, not just from within UEFA.
"It is not the goal of my life (to go to FIFA) but I have many people who support me around the world who have asked me to run. I will consult many people but it will be my personal decision in the end."
Blatter, who has just turned 78, has dropped increasingly strong hints that he will stand for a fifth term and recently said that he had been asked by a number of federations to run again, but he is not expected to formally announce his intentions until FIFA's annual congress in Sao Paulo, just before the start of the World Cup.
The game of cat mouse took on an extra dimension earlier this year when Jerome Champagne, FIFA's former deputy general secretary, became the first person to announce his candidacy but made it clear he had no chance of beating Blatter. "I have a different opinion," smiled Platini.
Contact the writer of this story at This email address is being protected from spambots. You need JavaScript enabled to view it.