Details

Category: Europe
Published on Monday, 31 March 2014 12:47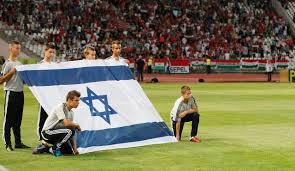 By Andrew Warshaw, chief correspondent
March 31 - Israeli football authorities have broken their silence over the hugely sensitive dispute with Palestine, insisting efforts are being stepped up to improve conditions for Palestinian players and officials in and out of the West Bank and Gaza.
Tensions between the two sides recently reached a peak when the Palestinian FA announced it would call for Israel's expulsion from FIFA this summer's FIFA Congress in Sao Paulo unless tangible measures are taken to ease travel restrictions in the occupied territories.
Last week, the Israeli FA attended the UEFA Congress in Kazakhstan and kept a low public profile throughout the proceedings. But in a brief interview with INSIDEworldfootball straight after the congress, Israeli Football Association CEO Rotem Kemer said there was a danger of too many people playing politics.
"We don't think this is right," he said. "It has never been the policy of FIFA and UEFA to mix politics and sport. We are making our best efforts in order to help the Palestinian association. We are trying to make things easier for them."
The Israeli security forces have accused the Palestinians of using football to hide the movement of terrorists and equipment within the region. The Palestinians have denied this and point to the inability to get footballers to training and matches which they say is a deliberate act of oppression.
FIFA have set up a mediation Task Force and Palestine football's leading figurehead Jibril Rajoub has already met with his Israeli counterpart Avi Luzon and FIFA President Sepp Blatter to try and resolve the long-term issue of access to and from Palestinian territories.
Blatter, who is due back in the region next month, wants Israel and Palestine to sign a formal co-operation agreement at or around the FIFA Congress in June but Rajoub has implied this is some way off while travel permit restrictions continue to be imposed by Israel on everyone from players to consultants.
Kemer, however, implied the debate has been far too one-sided.
"I don't think we will be expelled from FIFA because we are making good progress with the Palestinians," he said. "I would say we are on the right track."
Despite his comments, earlier this year two teenage Palestinian footballers were shot by Israeli security forces in the West Bank and were told it is unlikely they would play again.
Jawhar Nasser Jawhar, 19, and Adam Abd al-Raouf Halabiya, 17, were shot by Israeli soldiers as they were walking home from a training session in the Faisal al-Husseini Stadium in al-Ram in the central West Bank on January 31. The incident served as a graphic reminder of the situation on the ground and was recently taken up by FIFA vice-president Prince Ali bin al-Hussein during a briefing with reporters.
"I am not promoting or defending any side (but) I am in a very difficult situation where I have to take two boys from Palestine at my own expense, for treatment in Jordan," said Prince Ali, head of the Jordanian FA.
"These are the two who were shot in the legs and set upon by dogs. Why is this happening? Under FIFA statutes you cannot say one country can do one thing and another country can do something else. All we are asking is to allow our young boys and young girls to play the sport."
Contact the writer of this story at This email address is being protected from spambots. You need JavaScript enabled to view it.