Details

Category: Europe
Published on Friday, 04 April 2014 12:26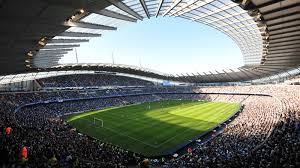 By Tom Parsons
April 4 - Following Liverpool's move last year to introduce Wi-Fi to its 12,000 seater Centenary Stand, Manchester City has become the first Premier League Club to install free Wi-Fi throughout their whole stadium.
The Etihad Stadium will boast 30MB high-speed broadband for its fans and will revolutionise the way football is watched at stadiums. As well as being installed in the stadium, the Wi-Fi will be available in the surrounding areas and the BT City Square, City's outdoor fan entertainment zone
The system has been installed by O2 in conjunction with Cisco and has undergone extensive testing to make sure all 48,000 fans are able to use the state of the art system.
Since the advancements in technology, fans have been longing to use their smart-phones and tablets at football matches only for 3G and phone signals to be weak. This is due to the mass concentration of mobile phones in confined stadiums overloading the network. The Etihad Wi-Fi will counter this problem and enable fans to use their Wi-Fi enabled devices anywhere in the stadium.
The installation is part of a major digital initiative from the Manchester club and will enable fans to take advantage of some of the club's newly built applications on iOS and android systems designed to further the fan's match day experience. This includes a travel app designed for away fans called CityHome.
Fans will now also be able to engage with the club and other fans on social media networks such as Twitter, Instagram and Facebook as well as being able to check other teams scores from across the globe without having connection problems.
The greater emphasis on clubs using social media to connect with their fans has rapidly grown over the last few years and Manchester City recently topped a social media ranking of Premier League clubs.
Diego Gigliani, director of marketing for media and fan development at the club, said: "The launch of high-density Wi-Fi allows us to offer free, high speed internet access to all our fans, marking an important step forward in Manchester City's drive to become the most technologically and digitally advanced football club in the world.
"Mobile technology and social media in particular, play a key role in our fans' match-day experience. It was, therefore, important for us to embrace this growing trend and enable our fans to share their passion for the club with fellow City supporters around the world, in real time, free of charge, all from the comfort of their seat."
Last year, INSIDEworldfootball announced that Liverpool had installed Wi-Fi in their 12,000 seated Centenary stand. Since then the Merseyside club has said they don't currently have plans to extend this to the rest of their Anfield home as supporters had complained about the speed of the broadband on offer.
Earlier this year the National Football League (American Football) announced they want all of their stadiums to have a full Wi-Fi system installed by 2016.
The Sydney Cricket Ground implemented a new Wi-Fi system in January for their 46,000 home where fans can watch highlights on their tables or phones as well as being able to order food and drink without having to leave their seats!
Contact the writer of this story at This email address is being protected from spambots. You need JavaScript enabled to view it.