Details

Category: Europe
Published on Tuesday, 08 April 2014 12:28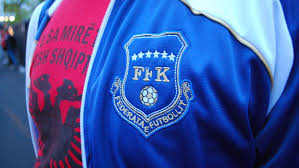 By Andrew Warshaw
April 8 - Serbia's football authorities, who have been keeping a low public profile ever since Kosovo were given permission by FIFA to play friendly matches, have given the biggest hint to date that they will challenge the breakaway territory's new-found status.
Last month, in one of the most symbolic fixtures of recent years, Kosovo played its first international, six years after declaring independence from Serbia, when they drew 0-0 with Haiti in front of 17,000 fans.
Kosovo is not recognised as an independent authority by Serbia and is not a member of FIFA or the United Nations but is supported by about 100 countries. Earlier this year FIFA finally cleared the national team and clubs to play non-competitive matches after a lengthy battle for recognition. No flags were allowed under the agreed compromise and no anthems played. The team walked out with the name 'Kosova*' printed on their backs - with an asterisk deliberately added, apparently in accordance with a request by Serbia.
But that does not appear to have entirely satisfied the Serbs. Belgrade still lays formal claim to the territory and according to Ivan Curkovic, vice-president of the Football Association of Serbia, Kosovo's partial recognition by FIFA is not legal, hinting his federation would not take the current situation lying down..
"You have to understand the situation," said Curkovic. "Kosovo is part of Serbia and this was a decision by FIFA which we don't agree with. The next step is to make an official move."
Quite what that means is unclear, however, since Kosovo has already started playing with FIFA's blessing. Even UEFA, who do not share FIFA's position for fear of creating a precedent for other secessionist regions to jump on the bandwagon, are understood to have held secret talks with Kosovo football chief Fadil Vokrri back in February, as exclusively reported by INSIDEworldfootball.
Contact the writer of this story at This email address is being protected from spambots. You need JavaScript enabled to view it.