Details

Category: Europe
Published on Wednesday, 09 April 2014 13:21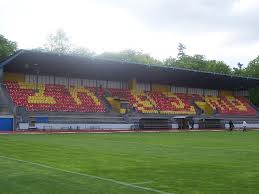 By Jaroslaw Adamowski
April 9 - With the aim of securing funds to modernise its stadium, SC Znojmo is currently in talks with the Czech Ministry of Education to obtain CZK 90 million (€3.3 million) in subsidies.
"If we deliver the application in compliance with all the requirements, the subsidies should be approved [by the ministry," Ota Kohoutek, the club's chief executive, told local news site iSport.cz.
SC Znojmo was promoted to the Gambrinus Liga, the top tier of the Czech professional football league, after the 2012/2013 season. Upgrading the club's stadium is essential in its efforts to secure a licence for the next season from the Czech Football Association (FAČR). Neither the club, nor the city of Znojmo possess sufficient funds to cover the investment.
Under the plan, the club is to modernise the stadium's seating areas, set up lights for the football field, as well as build a VIP and press zone.
"There is a fair assumption that by the beginning of the next season [the stadium] will be as it should be," Pelta told local news site Aktualne.cz.
This season SC Znojmo has been hosting its home matches at the stadium of Zbrojovka Brno under a lease deal signed between the two clubs. SC Znojmo's Hostan Arena has a seating capacity of only 5,000. In comparison, Zbrojovka Brno's stadium is fitted with 10,785 seats.
Contact the writer of this story at This email address is being protected from spambots. You need JavaScript enabled to view it.