Details

Category: Europe
Published on Tuesday, 15 April 2014 12:06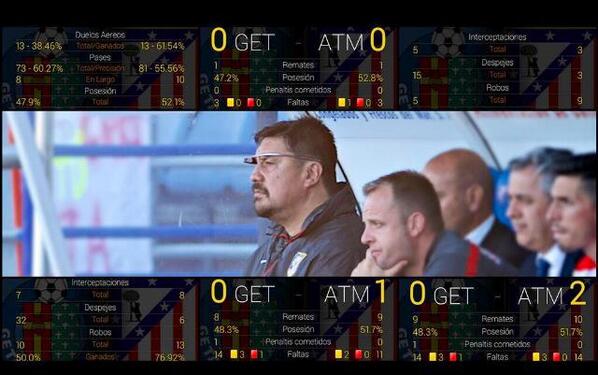 By Tom Parsons
April 15 - Sunday saw a first in football history as Atlético Madrid assistant coach German Burgos used Google Glass to help his team keep their La Liga hopes on the right track with a 2-0 win over Getafe.
The invention from Google, which is worn by the operator as glasses, allows users to surf the internet, take pictures and videos as well as being able to access apps that have been developed especially for the hands free hi-tech gadget.
To date they have only been available to the general public for one day (in America) following several trials across the globe.
Burgos was able to receive live statistics from the game using the Google Glass headset. This technology has been developed alongside the Liga de Futbol Professional (LFP) enabling coaches to have a real-time stats on the match.
The Atlético assistant was using an app called 'Mediacoach' and could see his team's shot counts, possession percentages and territory amongst many other individual and team performance indicators, whilst still being able to follow the game.
The glasses are seen as an advantage over iPad's and other products as the viewer is able to see both game and statistics without having to turn away from the match they are watching.
"The product allows the analysis of games in real time and the extraction of data from each game; clubs will have all the information about their own game, and of the sides they will face throughout the season," said an LFP press release.
'It will be the first time that Google Glass integrates such a useful footballing service.'
It will be interesting to see if the Atlético coaching team decide to carry on using Google Glass for their remaining matches this season, including the highly anticipated match against Chelsea in the Champions League Semi-Final.
There has been rumour that Google Glass could be used by match officials to watch replays of key decisions before making up their mind on the best course of action.
Bundesliga referees could be first to trial the glasses with referee chief Andrea Rettig speaking to German newspaper, Sued Deustche last year suggesting: "[We should think about] computer glasses for referees, such as Google Glass. When we think about technical progress, then we must take the next step to discuss whether the referee could wear glasses to see what everyone sees on the couch."
Contact the writer of this story at This email address is being protected from spambots. You need JavaScript enabled to view it.