Details

Category: Europe
Published on Wednesday, 23 April 2014 09:48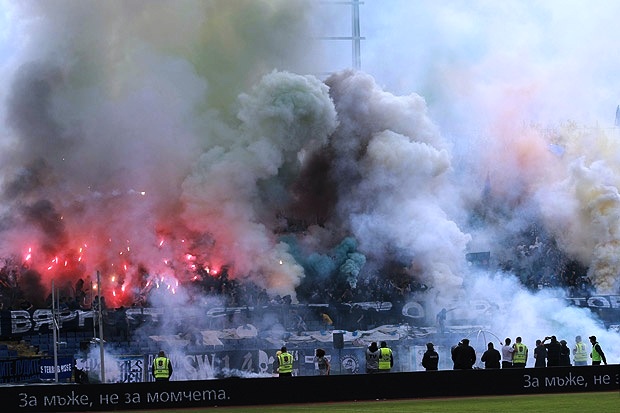 By Alexander Krassimirov
April 23 – There was yet more chaos in Bulgarian top tier football after the shocking scenes of violence that caused the abandonment of the Plovdiv derby at the weekend. This time it was the extreme Ultras of Levski Sofia who took action into their own hands amid fears that the top level of the game is getting out of control in the country.
In the biggest of Bulgaria's derby matches, Levski supporters were furious at another loss against club's bitter rivals CSKA Sofia. After the defeat (3:1), which was the fourth consecutive defeat by CSKA, the Ultras summoned the players in front of the stands, where they stripped off their shirts.
The angry fans demanded an explanation from the players for the team's poor play. Levski's striker Valeri Bojinov said: "The fans asks us to strip off our shirts. I think it's normal, because they are very disappointed."
"I don't know what to say. With shirt or without shirt, I don't care. I gave everything! Let's talk about the game," said Czech defender Pavel Cmovs.
The Levski Ultras were careful not to blame the youth players in the squad who, in their opinion, are not to blame for the current situation. But instead targeted the senior players.
It is not the first time that Levski Ultras have taken such extreme action. In October last year, the Ultras interrupted a press conference held by the newly appointed coach, Ivaylo Petev and then physically stripped off his shirt.
24 hours later, Petev resigned and left the club.
Contact the writer of this story at This email address is being protected from spambots. You need JavaScript enabled to view it.