Details

Category: Europe
Published on Wednesday, 07 May 2014 09:56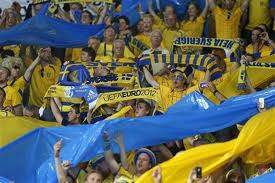 By Andrew Warshaw
May 7 - The dangerous political tensions in Ukraine have forced a number of league fixtures as well as the domestic cup final to be relocated from the country's pro-Russian eastern cities as well as the Russian-occupied Crimea peninsula for security reasons.
As the unrest continues to spill over into domestic football, Dynamo Kiev have switched an away game against Illichevets to Kiev from their opponents' home town of Mariupol and the capital has also officially been confirmed to hold the match between Sevastopol and Metalist Kharkiv.
Sevastopol city authorities in the Crimean peninsula, annexed by Russia in March, prohibited the match on their territory due to the unstable political situation.
Kharkiv city have also officially asked the Ukrainian Football Federation (FFU) to move the Ukraine Cup final, scheduled for May 15, elsewhere due to a high risk of violent clashes. The semifinals are to be played today, with holders Shakhtar Donetsk away to Slavutych Cherkasy, and Dynamo Kiev hosting Chernomorets Odessa.
"Safety of supporters is of primary importance for us. Having received the letter from the police force, the Football Federation of Ukraine is calling for a meeting to reconsider venue options for the Cup final," FFU spokesman Pavlo Ternoviy was quoted as saying.
Police in Lugansk have asked FC Zarja to find an away venue for their game against league leaders Shakhtar Donetsk with pro-Russian separatists causing unrest in the eastern city.
Last week's clashes in Odessa between pro-Ukrainian and pro-Russian demonstrators that led to over 40 deaths were reportedly sparked partly by a rally by local Chornomorets fans whose team were due to play Metalist.
Contact the writer of this story at This email address is being protected from spambots. You need JavaScript enabled to view it.