Details

Category: Europe
Published on Friday, 09 May 2014 04:31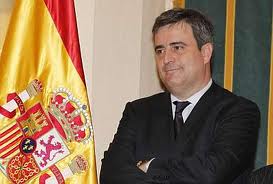 By Mark Baber
May 9 - Spain's Secretary of State for Sport Miguel Cardenal (pictured) revealed Thursday that professional clubs in the county's First and Second Division have accumulated debts of €3.573 billion, according to data from the Sports Council.
Cardenal explained that 74% of the debt was owed by just eight clubs in the Primera Liga.
The good news, which Cardenal conveyed to reporters at a breakfast meeting, is that the Budget Control System agreed between the Ministry of Sport and the Professional Football League is working well meaning that the debt fell by 5% during the 2012-2013 season as the teams managed to pay off €202.1 million of the total. The debt is forecast to fall by a further €300 million by the end of this season.
The success in reducing the debt burden is due to a 2.3% fall in salary costs, an overall 15% drop in personnel costs and a small increase in attendance figures.
According to Cardenal, money owed by clubs to the Treasury has also decreased from €752 million in January 2012, to €720.2 million in June 2013 with a further fall to €595 million predicted.
According to the minister, Spanish football's financial equilibrium means it compares well with the loss-making Premier League, France and Italy whilst Spain's recent financial improvement should see it join Germany in making a year-on-year profit.
The turnaround in the fortune of Spanish clubs has led to increased interest over the past 9 months from overseas investors buying clubs, with the minister pointing to Roland Duchatelet's acquisition of Alcorcon and Singapore billionaire Peter Lim's interest in acquiring Valencia as examples.
Contact the writer of this story at This email address is being protected from spambots. You need JavaScript enabled to view it.