Football Americas
Details

Category: Football Americas
Published on Thursday, 07 March 2013 12:28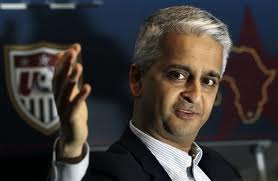 By Paul Nicholson
March 7 - Sunil Gulati (pictured), president of the US Soccer Federation, has his sights set on international committee work and giving the US a bigger voice at confederation and FIFA level.
Gulati, a main player in the US bid for the 2022 World Cup which was won by Qatar, is standing in the only two positions to be contested at the upcoming CONCACAF Congress in Panama City on April 19 – all the others have candidates who are unopposed.
He will go head-to-head for the North American position on the FIFA Executive Committee with Mexican football federation (FMF) president Justino Compeán. That position was vacated when Chuck Blazer announced he was to stand down to allow younger blood to come through.
And for the position as the member for North America on the CONCACAF Executive Committee he will be up against Canada's Victor Montagliani.
For Gulati to win both elections would be a huge boost to his international profile and that of the US within the top echelons of the ruling bodies of the world game.
But he is far from an automatic choice for the roles. FMF president Justino Compeán is a credible candidate from a country that is currently having a resurgence in its football fortunes. Gulati and Compeán have both served as presidents of the region's two football powerhouses since 2006.
For the past 16 years the US presence in the FIFA committee rooms has been dominated by Blazer, the larger-than-life whistleblower who sparked the infamous cash-for-votes scandal that led to a spate of resignations and suspensions among senior figures at FIFA.
Blazer is also the former CONCACAF general secretary who went public with bribery accusations against then CONCACAF President Jack Warner and Asian Football Confederation supremo Mohamed bin Hammam. (http://www.insideworldfootball.com/world-football/central-north-america/12012-blazer-is-latest-exco-member-to-call-it-a-day-after-16-years?highlight=WyJjaHVjayIsImJsYXplciIsImNodWNrIGJsYXplciJd)
With both Blazer and Jack Warner gone there is a wind of change sweeping through CONCACAF and FIFA's executive committee.
The two positions being voted on by CONCACAF will both for four terms, 2013 to 2017. Each of CONCACAF's 40 member federations has a vote.
The full list of positions and individuals standing is below:
FIFA Executive Committee member from the Caribbean, Jeffrey Webb (Cayman Islands) – Unopposed
FIFA Executive Committee member from North America, Justino Compeán (Mexico) and Sunil Gulati (United States) – Election
CONCACAF Executive Committee vice president from Central America, Alfredo Hawit (Honduras) – Unopposed
CONCACAF Executive Committee vice president from the Caribbean, Horace Burrell (Jamaica) – Unopposed
CONCACAF Executive Committee member from Central America, Eduardo Li (Costa Rica) – Unopposed
CONCACAF Executive Committee member from the Caribbean, Luis Hernandez (Cuba) – Unopposed
CONCACAF Executive Committee member from North America, Sunil Gulati (United States) and Victor Montagliani (Canada) – Election
Contact the writer of this story This email address is being protected from spambots. You need JavaScript enabled to view it.