Football Americas
Details

Category: Concacaf News
Published on Friday, 19 April 2013 23:16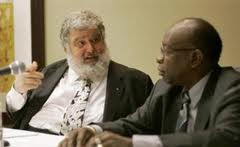 By Andrew Warshaw, chief correspondent
April 19 - Jack Warner (right) and Chuck Blazer (left), the one-time double act who fell out spectacularly and ended up as bitter foes, were denounced as "fraudulent in their management" of CONCACAF by an official report today.
In a stunning indictment of their conduct whilst in charge of the confederation - which covers north and central America and the Caribbean - David Simmons, head of CONCACAF's Integrity Committee and a former chief justice of Barbados, presented the confederation's congress in Panama with a detailed forensic audit into allegations of financial mismanagement by Warner, CONCACAF's former president, and his general secretary Blazer who stepped down in December.
At the centre of the probe were claims, sensationally revealed at last year's CONCACAF Congress in Budapest, that the $25.9m Joao Havelange Centre of Excellence in Trinidad was not owned by CONCACAF, as all its members had assumed, but - secretly - by two companies owned by Warner.

Astonishing evidence of the tangled financial state of CONCACAF under the Warner/Blazer regime prompted fury among delegates in Budapest. It included CONCACAF allegedly concealing tax liabilities to the US Inland Revenue Service between 2007 and 2011 to the tune of millions of dollars and prompted Warner's replacement, Jeff Webb, to commission a detailed probe.
The larger-than-life media friendly Blazer was the whistle-blower in the 2011 cash-for-votes scandal that led to Warner, FIFA's longest-serving vice-president, resigning all his football positions.
Blazer always insisted he, by contrast, was completely clean but Simmons told delegates there was a serious abuse of power under the Warner/Blazer regime.
"I have recounted a sad and sorry tale in the life of CONCACAF, a tale of abuse of position and power, by persons who assisted in bringing the organisation to profitability but who enriched themselves at the expense of their very own organizations," said Simmons.
His words prompted fury among delegates, with one describing Warner, Minister of National Security in the Trinidad and Tobago government, and Blazer as "white collar thieves".
The report found that Warner did not disclose to CONCACAF or FIFA that the Centre of Excellence was built on land owned by his companies. "Approximately $26m of CONCACAF funds went into the Centre of Excellence and that is no longer an asset of CONCACAF," said Simmons.
Turning to Blazer, who stands down from FIFA's executive committee at next month's FIFA Congress in Mauritius, Simmons disclosed the bearded American received more than $20m in compensation from CONCACAF, including $17m in commission which were paid, mostly, via an offshore marketing company.
He added that Blazer worked without a contract from July 18, 1998, and his compensation was discussed only three times at CONCACAF meetings during 21 years.
The report also found "no business reason" for the renting of apartments used by Blazer in Manhattan and said the American had also tried to buy property in the Bahamas, in 2007, for about $4m using football funds.
Blazer was described by Simmons as "entirely negligent" for failing to file income tax returns for CONCACAF in the United States which led to the body losing its tax-exempt status as a non-profit organization.
Concluding his report, he said the auditors used by CONCACAF during the Warner era, Trinidad-based Kenny Rampersad and Company, were not independent and cited documented proof that Warner and Blazer were clients of the firm.
Both men have always previously denied any wrongdoing but both have now been seriously discredited, the latest blow to strike at the heart of FIFA's credibility.
Listening to Simmons picking apart the conduct of two of his former colleagues on the top table of world football was FIFA President Sepp Blatter who must have felt distinctly uncomfortable. Some of the money invested into the Centre of Excellence came from FIFA loans.
"Warner represented to FIFA that funds would be used to support development but never told FIFA that Centre would be situated on land owned by his companies," said Simmons.
"There is no evidence that Warner or anyone else ever disclosed to the CONCACAF executive committee or congress that lands on which the Centre was built was owned by his companies."
Warner, said Simmons, had "deceived persons and organisations" into believing the facility was CONCACAF's and not his. Neither he nor Blazer apparently cooperated with the investigation.
Contact the writer of this story at This email address is being protected from spambots. You need JavaScript enabled to view it.