Football Americas
Details

Category: Interviews
Published on Tuesday, 04 June 2013 10:36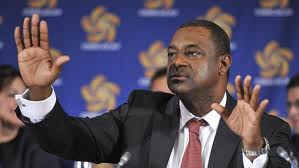 By Andrew Warshaw, chief correspondent
June 4 - One year after becoming CONCACAF president amid the most turbulent period in its history, Jeffrey Webb says the confederation has already started to clean up its act and regain confidence after being brought to its knees by scandal and in-fighting.


Elected in May last year in succession to the disgraced Jack Warner during a fractious CONCACAF congress in Budapest, Webb took over a bitterly divided region that had been torn apart by the 2011 cash-for-votes scandal involving a raft of Caribbean members.
Warner, a FIFA vice-president, resigned over the scandal while more recently an investigation commissioned by the new CONCACAF regime found that both Warner and former general secretary Chuck Blazer had been "fraudulent in their management" of the region's finances for the best part of two decades. Blazer, who had already announced he was stepping down both from CONCACAF and FIFA's executive committee, was suspended by FIFA in the fall-out from the damning report into his conduct which alleged he squandered millions of dollars.
Under Warner and Blazer, the workings of CONCACAF were notoriously secret, with few details making their way to member nations, let alone the media. Until now, Webb has kept his counsel when publically discussing the old regime but in the second part of a two-part interview with InsideWorldFootball, he pulled no punches, charging that both Warner and Blazer - the latter recently replaced on FIFA's executive committee by American compatriot Sunil Gulati - failed in their responsibilities to develop football in the region.
"Did Chuck implement a development programme?" asked Webb. "Did he implement a grass-roots programme? Did he implement coaches and referees educational programmes? Did he implement a marketing and public relations programme? Implementation comes from the general secretary while leadership and vision comes from the board and the President.
"At the end of the day CONCACAF over the last 20 years have not done one single development aspect. We have no coaches qualifications, no referees qualifications, no grass roots programmes. Every single national association has suffered harm over the last two years. The whole region has suffered from lack of trust and confidence. Where was the FIFA Assistance Programme's $5m to CONCACAF going before? Every cent we receive from FIFA is now going back into development programmes. For the first time this year we are giving each association $100,000 towards grass-roots football."
Webb has already put in place a series of changes aimed at eliminating any chance of corruption rearing its head again and hopes the new atmosphere of transparency and collective responsibility will finally end the bitterness and turmoil of the past. "The members demanded answers and have been provided with those answers by the integrity report. We have put full processes in place to make sure some of the occurrences of the past do not happen again."
Webb, whose rise from president of the Cayman Islands federation to global footballing prominence in the last 12 months has been remarkable, is very much the man of the moment. He was constantly on the move during last week's FIFA Congress in Mauritius, partly in his role as chairman of FIFA's new anti-racism and discrimination Task Force.
CONCACAF matters are still his number one priority, however, and he confirmed to Insideworldfootball that he was seeking an additional guaranteed World Cup berth for his 45 member associations from the 2018 tournament onwards but declined to say which confederation he wanted to give up a place. Currently CONCACAF have three automatic berths and have to go into a playoff to try and secure a fourth spot.
"When you look at the results that CONCACAF has produced, not only from the World Cup but also in youth and women's football and the recent Olympics, I think we deserve more representation. That's my personal position but of course only FIA can make the decision."
Contact the writer of this story at This email address is being protected from spambots. You need JavaScript enabled to view it.