Details

Category: Federations
Published on Monday, 22 July 2013 09:31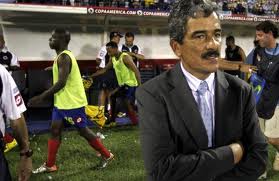 July 22 - Costa Rica head coach Jorge Luis Pinto (pictured) has been fined $5,000 by CONCACAF and warned about his future conduct following remarks he made during the Gold Cup.
Pinto criticised the Confederation after the group stage game against Belize in Salt Lake City where Costa Rica edged through 1-0.
According to an official statement, the fine was imposed "as a result of infringements by Mr. Pinto to Article 57 of the FIFA Disciplinary Code that emanated from public criticism of the Confederation during his press conference .... as well as unacceptable and offensive language used against CONCACAF officials."
No further details were provided by CONCACAF but Article 57 states: "Anyone who insults someone in any way, especially by using offensive gestures or language, or who violates the principles of fair play or whose behaviour is unsporting in any other way may be subject to sanction."
Costa Rica were eliminated from the Gold Cup last night after losing 1-0 to Honduras in the quarter finals.
Contact the writer of this story at This email address is being protected from spambots. You need JavaScript enabled to view it.